Maximum Risk
(1996)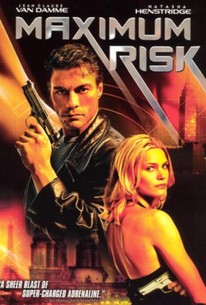 Movie Info
This fast-paced actioner starts in the streets of Nice where several assassins pursue a man and end up killing him. French cop Alain discovers that the deceased was his exact double. Alain takes his place and must avoid both Mafia and FBI in attempts to solve the mystery.
News & Interviews for Maximum Risk
Critic Reviews for Maximum Risk
Audience Reviews for Maximum Risk
½
A cop (Van Damme) just found out about something new. He's had a twin brother all these years and didn't know it, but the bad part is that he just found out by finding his twin's dead body. Little does this cop know that his twin brother was a Russian agent. Since he looks just like the person that just died, everybody around town thinks he's someone he's not. When it comes to the mafia and FBI agents, this just might spell trouble. Like he did in "Double Impact", Jean-Claude Van Damme once again plays the role of twins, although not as much this time around. "Maximum Risk" might be a bit shallow on plot depth, but who cares? Van Damme movies are known for their great stunts, action, and especially the fighting sequences, and let me tell you, there is A LOT of each in this movie. The stunts, special effects, etc. come together as one to make "Maximum Risk" a fast paced, suspense filled adventure that all Van Damme fans should watch. It might not be one of his top five movies, but if you're a fan of other Van Damme movies, then checking out "Maximum Risk" isn't that big of a risk to take. NOTE: That was my Amazon review from the year 2002.
Jason Owens
Super Reviewer
Typical Van Damme plot line envolving murder and revenge but in the hands of Lam its is just about ok. There are some really nice action sequences here that really look good and slick involving cars and leaping about in front of trains hehe the stunts make the film really as the cast are kinda lame in their acting. Better than the usual stuff Van Damme produces these days and probably one of his last good films.
Phil Hubbs
Super Reviewer
Alain Moreau is a cop in France who cannot believe his eyes when a murder victim is the spitting image of him. He confronts his mother and learns that she had had twins but had to give one of them up. Wanting to solve the murder of his estranged twin, Alain follows a trail that leads him to a New York that is cold and full of snow and finds himself sucked into his brother's world where he finds himself with his brother's beautiful girlfriend all over him. However Alain also inherits his brother's problems some of which include Russian gangsters who want to kill him. This film wastes no time in getting the plot established and flying Alain into his first fight as quickly as possible and I can understand why this was the case. The plot is thin to say the least and it is best not to apply too much logic to any of it because the whole thing is an excuse for Van Damme to just do the things in this film that he does in all his films. This includes speaking in a strange accent, being naked with a beautiful female co-star and kicking people in lots of exciting ways. All these boxes are ticked here and as such it does what you would expect from a Van Damme film and it will depend on the individual viewer whether or not that gets you interested or sees you running the opposite direction. For me it is somewhere in the middle because I accept the bad and in return veg out in front of a dumb action movie. The plot gets no better and every time it needs to add story to create more action you can almost see it straining with the effort. The action is mostly pretty good although it was a bit disappointing to see how Ringo Lam had toned down the style for his first American film; only here and there did the film get close to the mayhem in the action that he is known for. Van Damme is quite good though, for course he is a clunky actor and here he seems to have had his charisma filtered out but in the action sequences he is a marvel ? very athletic and impressive and his physical presence helps a lot. Henstridge takes care of the "co-star who will get her tits out" requirement of the film but other than that she could have been anyone. The Wire's Ben Victor is so-so and yet I found it ironic that he had his last big scene in a cooler full of dead pigs because he had spent so much of the rest of the film surrounded by big hams too ? Grenier in particular comes to mind. Overall then this is a solid Van Damme film with all the plusses and minuses that one would expect. The plot is poor and the acting leaves a lot to desire but the action is fun even if I was hoping for more from Lam.
David Ladd
Super Reviewer
Maximum Risk Quotes
There are no approved quotes yet for this movie.