Mazes and Monsters
(1982)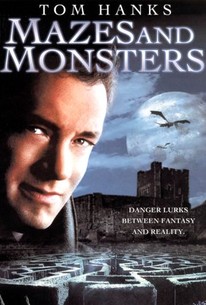 AUDIENCE SCORE
Critic Consensus: No consensus yet.
Mazes and Monsters Photos
Movie Info
Remember that controversial participation game of the 1980s called "Dungeons and Dragons"? Remember how sociologists warned us that the game was potentially dangerous to those who couldn't altogether separate fantasy from reality. This is the premise of Mazes and Monsters, a made-for-TV film based on the best-seller by Rona Jaffee. Future Oscar-winner Tom Hanks portrays one of four college students who become so deeply involved in a Mazes & Monsters session that the results may turn fatal at any moment. Despite its potential for silly sensationalism, the film is based on a believable premise, and arrives at a logical conclusion. When first aired December 28, 1982, this Canadian-American production was titled Rona Jaffee's Mazes and Monsters.
News & Interviews for Mazes and Monsters
Critic Reviews for Mazes and Monsters
All Critics (4) | Fresh (1) | Rotten (3) | DVD (1)
What follows leads to a sophisticated and credible conclusion, a rarity among made-for-TV films. And it's engrossing all the way.
Although intended as a cautionary tale, it's far more likely to inspire snickers than shudders.
Audience Reviews for Mazes and Monsters
"Mazes & Monsters" is the "Reefer Madness" of the gamer set, hilariously mired in the early 1980's preposterous hysteria over the satanic influence of fantasy games like Dungeons & Dragons. Tom Hanks performs admirably well in an early role - although few others can claim that distinction. The script is weak (as one might expect for a fear-mongering art-screed). The lighting is poor. The direction is imitative of TV soaps like "Day of Our Lives" or "Ryan's Hope". The movie is on film stock of such poor quality, one might be excused for believing it was lifted from Soviet military surplus supplies circa 1978. The soundtrack is abysmally bad - I suspect also possibly acquired from Soviet overstock circa 1978. There's little to like in this hot-mess agitprop other than its delicious absurdity and an appreciation for Tom Hanks' evolving skill. Fun - but only if you're in the mood.
Christian C
Super Reviewer
½
A badly made movie with a confusing story and a silly plot. I'd say stay away from this one unless you're a huge Hanks fan.
½
Steven Hilliard Stern has a big resume of TV movies and Mazes and Monsters is one film that can be quite an interesting watch for fantasy and gamers alike.
Based off of Rona Jaffe's novel, by the same name, the concept of the story involves the topic of a game taking over a person's life. The story is a little out there, but that's not to say that it can't happen. The 1 hour 40 minute movie will not fly by as the pacing is a little slow. The character buildup is there and the "Mazes and Monsters" game concept is quite intriguing.
The first half of the film shows the change in Tom Hank's character as he gradually begins to cross the line between fantasy and reality. Once he crosses over, the film becomes a cat and mouse chase in New York. It is the first half that has more going for it. Some scenes can be a bit dark, but it is tolerable.
As far as the fantasy elements go, there are very few costume creatures and this is a shame. There is room for so much more, however the movie does keep it real with only a few of these things.
The acting is OK. A young Tom Hanks isn't winning any awards, but he gets the job done. A cute Wendy Crewson provides a decent female character, while Chris Makepeace fits right in to this story.
Mazes and Monsters may seem corny at first, yet this movie can be of interest to some.
Mazes and Monsters Quotes
There are no approved quotes yet for this movie.