McCabe & Mrs. Miller
(1971)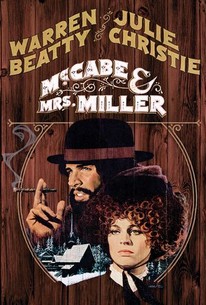 TOMATOMETER
AUDIENCE SCORE
Critic Consensus: McCabe & Mrs. Miller offers revisionist Western fans a landmark early addition to the genre while marking an early apogee for director Robert Altman.
McCabe & Mrs. Miller Photos
Movie Info
In a small American frontier village, a stranger named McCabe builds a brothel with the help of experienced madame Mrs. Miller. The town soon prospers, and success brings the jealous -- and potentially deadly -- attentions of a wealthy mining company in this classic, idiosyncratic reworking of the Western genre.
News & Interviews for McCabe & Mrs. Miller
Critic Reviews for McCabe & Mrs. Miller
Audience Reviews for McCabe & Mrs. Miller
A poetic, engrossing tale of Darwinism accelerated by pioneer-era capitalism and firearms, as well as a fascinating insight on the industry of prostitution and the fostering of the American Dream. This movie is yumyumyumyum.
Kevin Cookman
Super Reviewer
Set during the turn of the century in the Pacific Northwest in the small mining town of Presbyterian CHurch, this is the story of an enigmatic gambler and rumored gunfighter named John McCabe who shows up in town with the plan of creating civic progress and economic gain by running a brothel/gambling parlor/bath house. He gets help from an experienced and classy madame and opium addict named Mrs. Constance Miller. Their business partnership proves quite successful, and all seems well until business rivals arrive to pressure McCabe into selling out to them, something he has no interest in doing. Robert Atman was an interesting filmmaker, and this is likewise a very interesting project. Being made in the early 1970s, it is one of many revisionist westerns from the era, a nie group of films that sought to demythologize the Old West, eschew genre conventions, and inject contemporary sensibilities and beliefs into things. This is some really good stuff, and it's definitely a stand out little film in the genre. It's moody, atmospheric, and fits Altman's naturalistic and loose style quite nicely. One of its few faults is that it is a tad too slow and meandering at first, but once things get going, the results are pretty fantastic. It was filmed on location in Vancouver, and Vilmos Szigmond's cintmatography is absolutely brilliant and stunning. He gave the film a unique old timey look by fogging the lenses and using various filters while shooting instead of doing it all in post, and the result is a film that really makes you feel the cold, dirt, grit, and environment. It's a wonderfully realistic portrait that he and Altman paint. The tunes are handled by Leonard Cohen, and they too fit perfectly. I've always felt that his music works best when listened to on chilly fall and winter days, and, since part of the film does take place during winter, I was not disappointed. Besides being a little too loose and slow, I could have used a bit more development and backstory for the characters. Julie Christie is really good though, and seeing Warren Beatty with a beard is awesome, especially since his performance is also pretty strong. I'm not as familiar with the show Deadwood as I should be, but I can definitely see this film being a strong influence. All in all, this is really good. I don't think it's absolutely perfect like some do, but at the same time, I get the sense that this is one of those films that probably needs multiple viewings for it to be fully appreciated, and that it probably does get better with each watch. As it stand for me though, I give this one a strong B+.
Chris Weber
Super Reviewer
Altman's take on the "western" genre is a classic. With great performances and a soundtrack featuring the songs of Leonard Cohen.
Graham Jones
Super Reviewer
McCabe & Mrs. Miller Quotes