Me and You
(2014)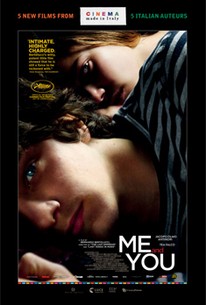 TOMATOMETER
AUDIENCE SCORE
Critic Consensus: A minor entry in a magnificent filmography, Me and You doesn't stand with Bertolucci's greatest works, but it's still an engaging character study.
Movie Info
Lorenzo (ANTINORI), a quirky 14-year-old loner who has difficult relationships with his parents and peers, decides to take a break from it all by hiding out in his building's neglected basement. For an entire week, he will finally avoid all conflict and pressure to be a "normal" teenager. But an unexpected visit from Lorenzo's older half-sister Olivia (FALCO) changes everything. A worldly 25-year old beauty, her problematic and fragile state upsets Lorenzo's total escape from reality, and their forced cohabitation in the basement's confined space brings forth confrontation and old resentments, but also a need for affection and intimacy. A few emotional days and nights with his sister Olivia will inspire Lorenzo to see the world through new eyes. (c) Made In Italy
Critic Reviews for Me and You
Audience Reviews for Me and You
Bertolucci seems aware of the fascination that he creates with his young protagonist, using the light and close-ups to explore how he curiously appears both awkward and beautiful. But the ambiguous ending feels like an easy refusal to deal with the questions raised before.
Carlos Magalhães
Super Reviewer
½
This Italian drama directed by Bernardo Bertolucci, one of my favourite directors, is not a Bertolucci I know and love. Don't get me wrong, it is not a bad movie at all, but if I watched it and didn't know who the director was, I would never guess the name of Bernardo Bertolucci. Written by Niccolò Ammaniti and Bertolucci himself, the script was a lightweight compared to what was he doing previously! There was a tell-tale touch from the master but it seems that was weakened a little. [img] http://upload.wikimedia.org/wikipedia/en/7/76/Io_e_te_%28film%29.jpg [/img] I enjoyed it, though, especially the young actors Tea Falco as Olivia and Jacopo Olmo Antinori as Lorenzo (watch out for those two), while I could not say the same for Sonia Bergamasco as Lorenzo's mother - she was too bland for my taste. Somehow, they did well as a team in a story about a troubled teenage boy, Lorenzo (Jacopo Olmo Antinori) who tells his mother he's going on a school skiing trip but instead hides out in the unused, crummy basement flat under the family home - and finds he has to share it with his older half-sister, Olivia (Tea Falco), who is also using it to go "cold turkey" off heroin. In these difficult circumstances their relationship blooms. The 73 year old Bertolucci played safe here - no risk whatsoever was his slogan making this warm film about the difficulties young people face, trying to be earnest imagining the ever-present drug abuse and challenges in life. I am not sure if this movie will emotionally appeal to young people, because it seems like told by the old man, but even like that he is showing us that he can still create poignant and tender work of art.
At CIFF, I was informed that Bernardo Bertolucci directed this film in a wheelchair. As if the direction job wasn't hard enough, he had to do it with limited mobility. After nine years of inactivity, Bertolucci comes back with an honest, gripping look into the complications of family, and really, the dangers of drug addiction. Although it's a rather short look (103 minutes), Bertolucci loads the runtime with plenty of scenarios, never losing the attention of the audience. Would I have wanted this film to be a bit longer ? I would've loved to see what happens after that semi-ambiguous ending. Made from a very small budget, Bertolucci keeps the film predominantly within one setting, a basement where a 14 year old boy, and his stepsister spend a week. Does it reach the grandiose level that Bertolucci reached with "The Last Emperor" or "Last Tango in Paris?" Not a chance, but the thing is, I wasn't expecting it to be nearly as big as those movies. It's a bittersweet drama about growing up, and change; the metamorphosis of teenagers into adults. It's not a perfect film, by far, that's for sure, but it dwells into the emotions of the characters enough to get the viewer attached, and hooked onto the story. I saw somewhere, where someone said the characters aren't engaging. I'd have to disagree with that statement, because I was involved with these characters. I felt the guilt, the pain, the anguish: everything. This film is a character piece, and without engaging characters, it would be a near disaster for Bertolucci. The acting is magnificent, from, really, only two actors/actresses. The plot is simplistic, but doesn't fail to keep you engaged.
Anthony Le
Super Reviewer
Me and You Quotes
There are no approved quotes yet for this movie.