Me and You and Everyone We Know
(2005)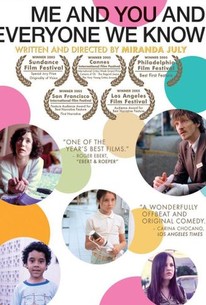 Me and You and Everyone We Know Photos
Movie Info
'Me and You and Everyone We Know' is a poetic and penetrating observation of how people struggle to connect with one another in an isolating and contemporary world. Christine Jesperson is a lonely artist and "Eldercab" driver who uses her fantastical artistic visions to draw her aspirations and objects of desire closer to her. Richard Swersey (John Hawkes), a newly single shoe salesman and father of two boys, is prepared for amazing things to happen. But when he meets the captivating Christine, he panics. Life is not so oblique for Richard's seven-year-old Robby, who is having a risqué internet romance with a stranger, and his fourteen- year-old brother Peter who becomes the guinea pig for neighborhood girls -- practicing for their future of romance and marriage.
Critic Reviews for Me and You and Everyone We Know
Audience Reviews for Me and You and Everyone We Know
½
Lonely people converge in various storylines involving sexual development and the improbability of connection. It's been a long time since I've seen a film that has been able to find profundity in life's little moments, but Miranda July's tour de force work in Me and You and Everyone We Know is able to find gems in everyday occurrences. The most striking example of the beauty she finds in the benign happens in the third act, so I won't give in away, but the rest of the film is subtle and poignant too. And what is a better example of achieving the Altman Standard than the reveal of whom the boys are cyber-sexting with? I did think the film occasionally got quirky for quirky's sake like Christine putting socks on her ears, but the film's concentration on these characters' oppressive and oppressing loneliness makes the things they do for attention and recognition more motivated than a film with a weaker thematic through-line. Overall, Miranda July has a new fan, and I have a new example of why film can be a medium that communicates the occasional sublimity of life better than any other.
Jim Hunter
Super Reviewer
½
Quirky, energetic and out-there. I absolutely loved it!
Randy Tippy
Super Reviewer
½
Oh-so-weird/indie/pretentious......but oh-so-irresistibly cute/sad/beautiful in parts (and trust me, I tried hard to resist): Richard accidentally self-immolating his hand with lighter fluid instead of alcohol; six-year-old Robby innocently cybering about pooping back and forth into each others' buttholes; Christine and Richard's meet-cute wherein they pretend to live their entire relationship together in a few street blocks; the sustained eye contact between Christine and Richard after he rejects her; Christine and Richard holding her mirror for fifteen seconds after gluing it; Peter bringing a stuffed animal for Sylvie's neurotically early hope chest, which she had heretofore filled with household appliances. The only story I wasn't into is the two neighborhood Lolitas trying to bait a potential pedophile. None of their motivations were set up properly. The filmmaker Miranda July seems like a total wackjob, but I guess I'll give her props for being so open with her wackjobiness, for instance, Christine, her performance artist alter ego (I'm assuming). The goofy Casio keyboard-esque score is a bit cloying at times but oddly atmospheric. I am very much enamored by John Hawkes' pugilist nose and sunken eyes. He's like an older, sadder version of DJ Qualls.
Alice Shen
Super Reviewer
Me and You and Everyone We Know Quotes
| | |
| --- | --- |
| Richard: | I don't want to have to do this living. I just walk around. I want to be swept off my feet, you know? I want my children to have magical powers. I am prepared for amazing things to happen. I can handle it. |
| | |
| --- | --- |
| Robby: | I want to poop back and forth |
| Robby: | I want to poop back and forth. |
| Robby: | It's like I'll poop into her butthole and then she'll poop it back into my butthole and then we'll just keep doing it, back and forth, with the same poop |
| Robby: | It's like I'll poop into her butthole and then she'll poop it back into my butthole and then we'll just keep doing it, back and forth, with the same poop. |