Mean Girls
(2004)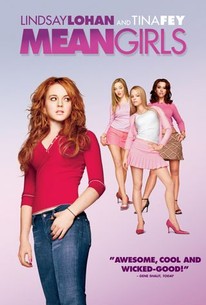 TOMATOMETER
AUDIENCE SCORE
Critic Consensus: Elevated by a brilliant screenplay and outstanding ensemble cast, Mean Girls finds fresh, female-fronted humor in the high school experience.
Movie Info
Tina Fey from Saturday Night Live wrote and appears in this comedy about the alternately funny and terrifying pecking order among teenage girls. Cady Heron (Lindsay Lohan) is a 15-year-old girl who has spent most of her life in Africa, where she was home-schooled by her zoologist parents. When her family relocates to the United States, Cady finds herself attending a high school in suburban Illinois, where she gets a crash course in the various sub-strata of the student body: the jocks, the cheerleaders, the stoners, the "cool" kids, and so on. Much to her surprise, Cady finds herself embraced by a clique of rich and popular girls known to outsiders as "the Plastics," led by Regina George (Rachel McAdams), Gretchen Weiners (Lacey Chabert), and Karen Smith (Amanda Seyfried). While Cady is grateful for her new friends, it doesn't take long for her to realize how manipulative they can be, and she soon discovers she's violated an unwritten law when she goes out on a date with Aaron (Jonathan Bennett), who is charming, good looking...and Regina's former boyfriend. It isn't long before Regina and her pals are on the warpath, and Cady must face a level of vengeful behavior for which years in the jungle never prepared her. Joining Tina Fey in the supporting cast are fellow SNL players Amy Poehler, Ana Gasteyer, and Tim Meadows. The screenplay for Mean Girls was based in part on Queen Bees and Wannabes: Helping Your Daughter Survive Cliques, Gossip, Boyfriends and Other Realities of Adolescence, a book by professional youth counselor Rosalind Wiseman. ~ Mark Deming, Rovi
Critic Reviews for Mean Girls
Audience Reviews for Mean Girls
½
It probably helps to be the target audience for this or to be able to relate to all the high school groups and drama. It feels a little far fetched at times, from an outside perspective, while other school movies like Clueless or Easy A seemed closer to reality. That being said there are some genuinely funny scenes here and the cast is overall charming and works.
½
Biting and absurd satire. So many quotable lines! "On Wednesdays, we wear pink." "Irregardless, ex-boyfriends are just off limits to friends. I mean that's just like the rules of feminism." "Gretchen, stop trying to make 'fetch' happen! It's not going to happen!" "Get in loser, we're going shopping." "Grool... I meant to say cool and then I started to say great." "Sorry, we only carry sizes 1, 3, and 5. You could try Sears." "You can't sit with us!"
Alice Shen
Super Reviewer
I enjoyed this far more than I thought I would or should. It's actually a really good movie, like seriously. It's girly of course, but there's a lot of truth behind what's being displayed on screen. I could have gone my whole life without seeing it, and that would have been fine, but the more people talked about it, the more curious I got, especially since this movie was a breakthrough for several cast members I like. I also enjoyed the fact that this had so much involvement from the SNL crowd. Basically, this is a fun and highly entertaining farce that blends Heathers with Clueless and Jawbreaker, but sets everything in the 21st Century. The basic plot follows a 16 year-old girl who grew up in Africa, and spent almost her whole life being home schooled. After moving back to the States, her parents decide that she needs to attend public school to get some much needed socialization. Her world gets flipped upside down when, in her attempts to fit in, she becomes involved with The Plastics- the gorgeous, vapid, and domineering clique of popular girls And this is all about her trying to navigate the strange jungle that is high school- a world more foreign to her than the real jungles of Africa. Give it a shot if you haven't already. It definitely exceeds expectations, and that's coming from my mouth, the mouth of a goofy, offbeat straight man who has a beard and loves history and heavy metal. The film is funny, insightful, clever, and a lot better than it probably has a right to be.
Chris Weber
Super Reviewer
Mean Girls Quotes
| | |
| --- | --- |
| Gretchen Wieners: | I'm sorry that people are so jealous of me. But I can't help it that I'm popular. |
| | |
| --- | --- |
| Mr. Duvall: | Miss Smith? |
| Karen Smith: | Whoever wrote it probably didn't think anyone would ever see it? |
| Mr. Duvall: | I hope that nobody else ever does see it. |
| | |
| --- | --- |
| Regina George: | 120 calories and 48 calories from fat. What percent is that? |
| Gretchen Weiners: | Um..48 into 120? |
| Regina George: | I'm only eating foods with less than 30% calories of fat. |
| Cady Heron: | It's 40%. Well, 48 over 120 equals x over a 100 and then you cross multiply and get the value of x. |
| Regina George: | Whatever. I'm getting cheese fries. |
| | |
| --- | --- |
| Mr. Duvall: | Coach Carr, step away from the underage girls! |