Mean Streets
(1973)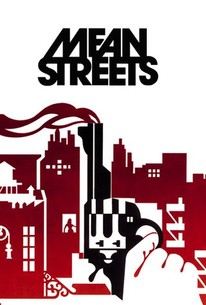 TOMATOMETER
AUDIENCE SCORE
Critic Consensus: Mean Streets is a powerful tale of urban sin and guilt that marks Scorsese's arrival as an important cinematic voice and features electrifying performances from Harvey Keitel and Robert De Niro.
Movie Info
"You don't make up for your sins in church; you do it in the streets; you do it at home. The rest is bulls--t, and you know it." Returning to the autobiographical milieu of his 1968 debut Who's That Knocking at My Door? for his third feature, Martin Scorsese examined the daily struggles of a wannabe hood to keep his morals straight on the streets of Little Italy. Driven equally by his wish to become a respectable gangster like his uncle (Cesare Danova) and his desire to live his life like St. Francis, Charlie (Harvey Keitel) takes on his energetically unhinged friend Johnny Boy (Robert De Niro) as his own personal penance, intervening to get Johnny Boy to pay off a debt to the local loan shark Michael (Richard Romanus). Despite his promises to his epileptic girlfriend Teresa (Amy Robinson) that they will move out of Little Italy once he strengthens his position in his uncle's world, Charlie's involvement with Johnny Boy further ensnares him in the neighborhood. When Johnny Boy decides to mouth off to Michael rather than pay him, Charlie, Johnny Boy, and Teresa try to flee Michael's murderous anger (and an assassin played by Scorsese), forcing Charlie to realize that the rules of the streets do not mesh with absolution. Whereas fellow "film school generation" director Francis Ford Coppola transformed the Hollywood gangster movie into metaphorical epics about the Mafia and capitalism in The Godfather (1972) and The Godfather Part II (1974), Scorsese revised the genre in the opposite direction, focusing on the gritty minutiae of daily life and drawing from personal memory. Combining documentary-style realism (even though most of the film was shot in L.A.); kinetic editing and camera movement; and expressionistic lighting, angles, and film speed, Scorsese presents an intimate picture of the trivial incidents and latent violence of Charlie's and Johnny Boy's world, naturalistically unfolding their experiences rather than simply explaining what motivates them. They lead a claustrophobic, petty existence that Scorsese and screenwriter Mardik Martin witnessed growing up in Little Italy, complete with a soundtrack of hit songs like "Be My Baby" and "Jumping Jack Flash" that had poured out of neighborhood radios. Mean Streets opened at the New York Film Festival to excellent notices and played strongly in New York but failed to duplicate that level of business elsewhere. Even so, Mean Streets established Scorsese and De Niro as formidable young talents and marked the beginning of a long-running and fertile collaboration that continued in such films as Taxi Driver (1976), Raging Bull (1980), The King of Comedy (1983), and Goodfellas (1990). Scorsese's exceptional grasp of the texture of day-to-day life, the rhythm and cadences of street talk, and cinema's visual and aural possibilities makes Mean Streets one of the pivotal films of the 1970s, as well as of Scorsese's career, and an influence on such future filmmakers as Spike Lee and Quentin Tarantino, among many others. ~ Lucia Bozzola, Rovi
News & Interviews for Mean Streets
Critic Reviews for Mean Streets
Audience Reviews for Mean Streets
½
Doesn't reveal its quality until the very end, when all that's on the table so far--friendships and family relationships, debts owed, "business" ambitions, a love affair and more--can't help but be cashed out. And what an ending. Unfortunately, though, after this many years, it kind of feels like an underfunded, underachieved Goodfellas. And if you're a De Niro fan, don't go into this thinking he's the star! I only knew a little about the movie before watching, and it took a while (maybe too long) for me to really invest in Harvey Keitel's character, Charlie, whose movie it actually is--I don't blame the filmmaker or Keitel for that though, that's my fault.
Daniel Perry
Super Reviewer
A groundbreaking movie that already showcased Scorsese's deep understanding of film language with a unique voice that would inspire other directors like Quentin Tarantino, and it boasts a killer soundtrack and two amazing performances by Harvey Keitel and Robert De Niro.
Carlos Magalhães
Super Reviewer
Although Mean Streets wasn't Martin Scorsese's directorial debut it can often feel like it was. He'd already done Who's That Knocking at My Door in 1968 and Boxcar Bertha in 1972 but this was the film that not only began his illustrious collaborations with Robert DeNiro but it was his first film to delve into the gangster sub-genre and displayed all the embryonic, stylistic trademarks that he has now become synonymous with. Quite simply, Mean Streets showcased the talents of Scorsese and fully confirmed the arrival of one of the greatest American directors while becoming hugely influential on future films and filmmakers alike. Charlie (Harvey Keitel) is a small time criminal trying to work his way up the local mafia food chain. However, his religious beliefs continually cause him to question his choices in life and as his conscience gets the better of him, so too does his misjudged loyalty to his low-life friends. Some may find the style and fashion of this early 70's classic as dated but Scorsese's flamboyant skills and style are far from it. This was a young, relatively inexperienced director who was way ahead of his time and displayed approaches to filmmaking that are now taken for granted. That said, when you look back at Mean Streets and consider just how early Scorsese delivered this, it still packs a punch and is, without doubt, one of the best and most impressive films from the decade. Following on the heals of Francis Ford Coppola's sweeping crime classic The Godfather in 1972, Scorsese took us to a more personal, working class criminal environment. It feels raw, even claustrophobic, when compared to Coppola's epic proportions. The characters in Scorsese's tale are more real and easier to identify with. They're not throwing elaborately expensive weddings or severing horse's heads to send messages, they're just trying to get by, day to day, and turn a coin from whatever petty criminal activity comes their way. At it's core, it's anchored by two excellent performances: Keitel shoulders the brunt of the film's narrative as Charlie; basically a good guy who has chosen a life of crime that leaves him in a tortured state due to his religious upbringing and near constant state of catholic guilt. He struggles with the choices he makes in life and struggles even more with those of his self-destructive friend, Johnny Boy, played with real electric verve by a young DeNiro. Even though Keitel delivers a solid lead performance, it's DeNiro's recklessness that really stands out. There's not a moment where he doesn't command your attention with his maniacal and random fits of rage and immaturity. As this proved to be the moment that Scorsese came to everyone's attention, it done the same for DeNiro. His improvisation and natural ability does, in front of the camera, what Scorsese was doing behind it. Both of their work seems to mirror and compliment one another and this became the birthing of one of cinema's greatest, long term, partnerships. Mark Walker
Mark Walker
Super Reviewer
Mean Streets Quotes
| | |
| --- | --- |
| Old man: | You don't make up for your sins in church. You do it in the streets. You do it at home. The rest is bullshit and you know it. |
| | |
| --- | --- |
| Johnny Boy: | I fuck you right where you breath, because I don't give two shits about you or nobody else |
| Johnny Boy: | I fuck you right where you breath, because I don't give two shits about you or nobody else. |
| | |
| --- | --- |
| Giovanni: | Honorable men go with honorable men. |
| | |
| --- | --- |
| Johnny Boy: | I f*ck you right where you breathe. |
| Johnny Boy: | I fuck you right where you breath... |