Measure for Measure
(1979)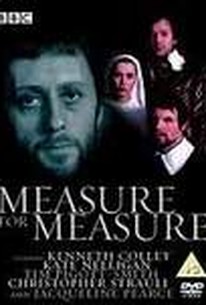 AUDIENCE SCORE
Critic Consensus: No consensus yet.
Movie Info
Vincentio (Kenneth Colley), Duke of Vienna, is a good and kindly ruler, but his leniency has allowed vice to thrive. So he decides to leave town temporarily, putting in charge his stern chief deputy, Angelo (Tim Piggott-Smith). Immediately, Angelo condemns the young nobleman, Claudio (Christopher Strauli), to death for getting his sweetheart, Juliet (Jacqueline Pearce), pregnant. Isabella (Kate Nelligan), an aspiring nun who is Claudio's sister, is disgusted by Angelo's suggestion that she "lay down the treasures" of her body to save her brother's life. Meanwhile, the Duke returns to town in the guise of a friar to see how his domain is faring in his absence. When he spies around, he learns of Claudio's imprisonment, and he overhears the dilemma that Angelo has created for Isabella. The helpful ''friar'' then suggests to Isabella that Mariana (Jacqueline Pearce), who was once betrothed to Angelo, take her place in the darkness of Angelo's bedroom. Mariana agrees, and the scheme goes according to plan. However, Angelo reneges on his promise because he fears Claudio will seek revenge if he is released, and instead he orders Claudio's immediate execution. However, Duke Vincentio, still disguised as a friar, persuades the prison warden to spare Claudio and to trick Angelo into thinking Claudio is dead. When Duke Vincentio doffs his disguise and reappears as himself, Angelo, realizing the game is up, asks to be executed to avoid a degrading trial. But Mariana, steadfast in her love for Angelo, pleads for his life. Mercy and a happy ending triumph. Claudio returns from the dead to wed Juliet. Angelo is spared and marries Mariana. The Duke then begs the hand of Isabella. He tells her, ''Dear Isabel, I have a motion much imports your good; whereto if you'll a willing ear incline, what's mine is yours and what is yours is mine.'' ~ Mike Cummings, Rovi
Critic Reviews for Measure for Measure
There are no critic reviews yet for Measure for Measure. Keep checking Rotten Tomatoes for updates!
Audience Reviews for Measure for Measure
Definitely one of the stronger BBC productions. Kenneth Colley is excellent as Vincentio, and Shakespeare's strong women are done great justice here, particularly in the case of Kate Nelligan as Isabella.
Shakespeare's women are astonishing, one play after another. I wonder if he ever was frustrated by the fact that only men -- not even men -- boys were required to play all the female parts in his day. I mean, you're depending on adolescent boys to pull off the likes of Juliet, or Ophelia, or Lady Macbeth, or Isabella in this play. I bet you're praying for male child prodigy actors with some heavily mature talent to come along at every turn. I can't but believe, that in his heart, Shakespeare must have longed for allowance to employ talented female actors to perform his choicest female leads.
Lanning : )
Super Reviewer
Measure for Measure Quotes
There are no approved quotes yet for this movie.