Meek's Cutoff
(2011)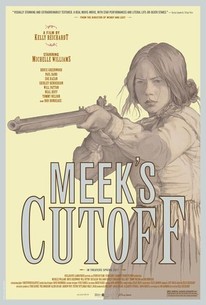 TOMATOMETER
AUDIENCE SCORE
Critic Consensus: Moving at a contemplative speed unseen in most westerns, Meek's Cutoff is an effective, intense journey of terror and survival in the untamed frontier.
Movie Info
The year is 1845, the earliest days of the Oregon Trail, and a wagon train of three families has hired mountain man Stephen Meek to guide them over the Cascade Mountains. Claiming to know a shortcut, Meek leads the group on an unmarked path across the high plain desert, only to become lost in the dry rock and sage. Over the coming days, the emigrants face the scourges of hunger, thirst and their own lack of faith in one another's instincts for survival. When a Native American wanderer crosses their path, the emigrants are torn between their trust in a guide who has proven himself unreliable and a man who has always been seen as a natural born enemy. -- (C) Oscilloscope
News & Interviews for Meek's Cutoff
Critic Reviews for Meek's Cutoff
Audience Reviews for Meek's Cutoff
Not even for Zoe Kazan. Wow, what a dull movie. I managed about 20 minutes before I'd had enough.
Nicki Marie
Super Reviewer
Here's the thing with Meek's Cutoff; it's a movie that isn't going to appeal to a large audience and probably not even a small one to be honest. It's a movie that moves slow in the beginning, slower in the middle, and slow at the end. Oh, and then there's the whole no real beginning, no real end thing that pissed a lot of people off.  I for one got a good amount of enjoyment from watching Kelly Reichardt's Meek's Cutoff. It has such beautiful cinematography. Every single shot of this film is what you'd call art. It's been a while since I was so blown away by the pure beauty that is every single shot of this film. So it looks great and that does mean a lot to me. I also loved Michelle Williams, as always. Every time I watch her in another movie, I end up loving her more than I did before. Bruce Greenwood is also good and Paul Dano has a role, but he's nothing too special in it.  Meek's Cutoff follows a couple of families as they follow a man named Meek who promised them he could get them to the mountains quicker then the trail. He took a shortcut, but it seems like anything but a shortcut. The movie begins with the families crossing a river and collecting water. The scene goes on for quite awhile and at first I wondered why, but it was extremely apparent as the film moved on. They find themselves without much water and Meek isn't able to bring them to any. So now some of them are questioning Meek. Then a Native American shows up around them, so they capture him and try to make him show them to the water.  There's a lot in this film that would and obviously has put off audiences. It's slow, it's quiet, and it doesn't really lead us anywhere. Well that's the point. We're kind of put into the same situation as the people in the move. We're being lead around a film, but are we going to get anywhere? Their being led around the wilderness, but will they get anywhere? I'm not going to say this is a masterpiece or anything, although visually it is. I'm not going to say I loved it, but it will make me watch Kelly Reichardt's other films and the ones she does in the future. Look, I'm not going to recommend this because I just don't think there's a lot of people who would like it. I liked it, but I don't speak for majority of people.
Melvin White
Super Reviewer
There are scenes in this 2010 "western" that make watching paint dry seem like an adrenaline ride, however, there is a stark beauty to behold, and all the contemplative slowness does immerse you in the pioneer experience - for imagine what traveling cross country in a covered wagon, doing 10 miles a day would have been like. There are huge expanses of "nothin'" in eastern Oregon - plains and playas where the nearest mountain is 40 or 50 miles away... in other words, you have to traverse the same barren moonscape for 4 to 5 days just to get there! I'm sure that it would never appear that the mountains are getting any closer. I've been through the area around Burns, Oregon where this was filmed (there are wild horses to be photographed in the area - as well as lots of petroglyphs and dinosaur footprints) and was sure glad I had a vehicle that was capable of 70mph, for some of the vistas indeed did seem endless. What director Kelly Reichardt shows us is that boredom and stark realism. For much of the film no-one says much and not much happens - just the 3 covered wagons being led across the vast wilderness - well filmed with one long shot dissolving into another, day after day after day. Soon, from the sparse dialog you get the picture - this group of 3 east coast families (who going in don't know each other at all), hire Steven Meeks as a guide to get them into the promised land (in this case the beautiful and bountiful Willamette Valley). Meeks is full of tall tales and it becomes apparent that he really is more bluster than real, and he has gotten the group hopelessly lost. When a curious Indian begins following the group, the defacto group leader (solidly played by Will Patton) convinces Meeks and the others to capture the Indian in the hopes that he can lead them to water. What transpires thereafter deals with trust, fear, and prejudice while the tension slowly mounts over whether the group will find water and survive. Along the way there is a solid minimalist performance of Michelle Williams and a nice turn by Bruce Greenwood as the blowhard Meeks to go with the vast vistas of nothingness. At an hour and 45 minutes, the film does waste considerable screen time on said nothingness, both scenery wise and in terms of script. When faced with having to lower the wagons down a steep slope via rope one at a time I question whether it was really necessary for Reichardt to show the descent of all three. It's this kind of questionable directorial decision that makes the film a nice contemplation on a time and place, but ultimately a flawed piece of cinema.
paul sandberg
Super Reviewer
Meek's Cutoff Quotes
There are no approved quotes yet for this movie.