Meet John Doe
(1941)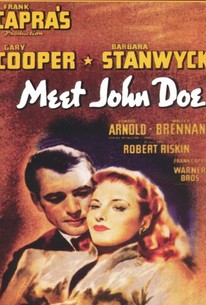 Movie Info
The first of director Frank Capra's independent productions (in partnership with Robert Riskin), Meet John Doe begins with the end of reporter Ann Mitchell's (Barbara Stanwyck) job. Fired as part of a downsizing move, she ends her last column with an imaginary letter written by "John Doe." Angered at the ill treatment of America's little people, the fabricated Doe announces that he's going to jump off City Hall on Christmas Eve. When the phony letter goes to press, it causes a public sensation. Seeking to secure her job, Mitchell talks her managing editor (James Gleason) into playing up the John Doe letter for all it's worth; but to ward off accusations from rival papers that the letter was bogus, they decide to hire someone to pose as John Doe: a ballplayer-turned-hobo (Gary Cooper), who'll do anything for three squares and a place to sleep. "John Doe" and his traveling companion The Colonel (Walter Brennan) are ensconced in a luxury hotel while Mitchell continues churning out chunks of John Doe philosophy. When newspaper publisher D.B. Norton (Edward Arnold), a fascistic type with presidential aspirations, decides to use Doe as his ticket to the White House, he puts Doe on the radio to deliver inspirational speeches to the masses -- ghost-written by Mitchell, who, it is implied, has become the publisher's mistress. The central message of the Doe speeches is "Love Thy Neighbor," though, conceived in cynicism, the speeches strike so responsive a chord with the public that John Doe clubs pop up all over the country. Believing he is working for the good of America, Cooper agrees to front the National John Doe Movement -- until he discovers that Norton plans to exploit Doe in order to create a third political party and impose a virtual dictatorship on the country. The last of Capra's "social statement" films, Meet John Doe posted a profit, although Capra and Riskin were forced to dissolve their corporation due to excessive taxes.
News & Interviews for Meet John Doe
Critic Reviews for Meet John Doe
Audience Reviews for Meet John Doe
Capra, with his immigrant's love of the American dream, can easily be criticized as sometimes syrupy but never as simplistic. Here he grapples with no less than updating the tale of the Christ, making a modern day fable (well, as modern as 1941) of one guy sacrificing himself for the greater whole of humanity. Coop is great as the simple man drawn into corruption and seeking redemption. Walter Brennan shines as his friend, a crazy homeless guy and the sanest man in the film, James Gleason is perfect as the common sense common man, and Barbara Stanwyck lights the proceedings as the too smart regular gal, unaware that she needs saving as much as anyone. Just fine, nuanced filmmaking!
Kevin M. Williams
Super Reviewer
½
Another Capra masterpiece that is still relevant today. Cooper and Brennan are great.
Graham Jones
Super Reviewer
This is a remarkable movie, and a great performance from Stanwyck. I highly recommend this movie.
Meet John Doe Quotes
There are no approved quotes yet for this movie.