Meet the Deedles
(1998)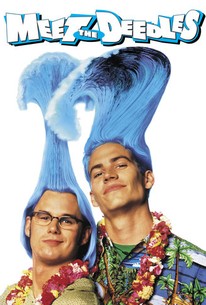 Movie Info
Hawaiian surfer dudes Stew (Steve Van Wormer) and Phil Deedle (Paul Walker), fraternal twins, are about to be expelled from school, so their wealthy and concerned father (Eric Braeden) offers summer camp in Wyoming as a solution. Arriving in Jackson Hole with their wet suits, the Deedle twins are like fish out of water, and a series of accidents put them in a hospital. Mistaken for new recruits by Yellowstone Park ranger Capt. Pine (Douglas Ashton), the duo go along with the error after meeting their training officer, the attractive Lt. Jesse Ryan (A.J. Langer), but they are unprepared to adapt to life in the wild, as they cope with mountainside rappelling, sleeping in tents, eating worms, and dealing with hordes of prairie dogs unleashed by ex-ranger Frank Slater (Dennis Hopper), who seeks vengeance for his past problems in the park. There are several pop-culture references, including a cameo by Bart the Bear (of The Edge).
News & Interviews for Meet the Deedles
Critic Reviews for Meet the Deedles
Audience Reviews for Meet the Deedles
A movie of epicly stupid proportions. It is a huge rip off of Dumb and Dumber, but I think it was due to the fact that Paul Walker and his brother in the movie are really mentally challenged. While it is almost so bad it's funny, it's just way too annoying to like.
Conner Rainwater
Super Reviewer
Absolutely terrible. The acting is bad, the plot is bad, the movie is bad. It is way too long and I stopped paying attention to it half way through.
Andrew Fillmore
Super Reviewer
Meet the Deedles Quotes
There are no approved quotes yet for this movie.