Meet the Feebles
(1989)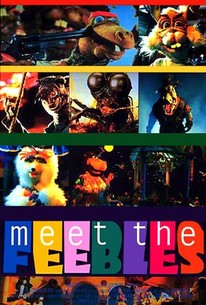 TOMATOMETER
AUDIENCE SCORE
Critic Consensus: Dark and vulgar, Meet the Feebles is a backstage comedy featuring puppets that offers proof of Peter Jackson's taste for sheer outrageousness, even if it often lapses into pure juvenilia.
Movie Info
Bearing the same relationship to The Muppet Show that Fritz the Cat does to Felix the Cat, Meet the Feebles is a gleefully rude, decidedly adult comedy about the backstage goings-on amongst an eccentric group of puppets the day before their televised variety special. Made by director Peter Jackson, creator of Bad Taste and Heavenly Creatures, the film features a wide ensemble of creatures known as "The Feebles," led by a walrus named Bletch, the show's gruff, corrupt producer. Amongst the central figures are Heidi the Hippo, the show's prima donna singer; the fey fox Sebastian, who acts as the show's director; and the lovable (and love-struck) Robert the Hedgehog. Other cast members include a sex-crazed rabbit suffering from VD, a junkie frog prone to Vietnam War flashbacks, and a rat who directs porno movies in the theater's basement. Romantic jealousies, drug deals gone wrong, murders, and other scandalous activities all threaten to wreak havoc amongst the cast, with all these problems reaching their climax on the evening of the big show (which comes complete with musical numbers). The film's extremely dark sense of humor is supported by skillful gross-out effects and a winningly irreverent attitude.
News & Interviews for Meet the Feebles
Critic Reviews for Meet the Feebles
Audience Reviews for Meet the Feebles
Oh... Oh god... Where do I start with this one? WHERE? I really don't know. The biggest reason anyone should watch this is because it's Peter Jackson's second film that he ever made. And it shows how much better he's gotten since then. To be frank, this is a pretty funny movie, but it relies on shock value almost exclusively for its punchlines. But the shock value is usually high enough to get away with this (one of the "milder" cases of shock value is a frog that has PTSD from being in Vietnam and is now addicted to every barbiturate known to man, this was the mildest gag I could think of in the whole film, it only gets worse from there). This is a film best watched in a large group with people going "AHHHHHH!!!" every minute or so. It's a fun experience. I don't recommend watching it by yourself though. Or with your parents around.
Jacob Ethington
Super Reviewer
I was just looking through some bizarre movies on the list of today, and then one caught my eye. It called itself a "Bizarre, Mature, and Insane Puppet Splatter Film". If you've seen my Eraserhead review, or my other reviews you'll notice that I like bizarre movies. After reading about this movie, I took an hour out of my day to watch it. Yep... bizarre it is. Meet the Feebles, however, isn't the Eraserhead, or The Shining, or even the Space Odyssey bizarre, though. I've never seen anything like or even similar to this. The plot is, well, very flexible. Absolutely ever puppet you see has a disturbing, bizarre, or traumatizing back-story. This means that, technically, there ARE no minor characters. These back-stories range from being in the Mafia, to having a drug addiction, to even fighting the war in Vietnam. The movie is very interesting, and the only boring part I'd say would be the first 15 minutes, were you're getting to know most of the characters. Although there are many plots in this movie, these are the major ones. There is a very depressed (and fat) Hippo in this movie who has been one of the very first Feeble star. She gets more an more depressed later and later, and finally goes insane and attempts to kill herself... however, something really insane happens instead, which is so vital to the main story (if there is one) that I will not spoil at all. The second one is a shy hedgehog trying to fit in. Notice in the genres bellow you'll see something that says "Comedy", this is most likely this role in the movie. You see, he see this poodle and falls in love with at first sight, but he's to shy to do anything. This may seem cliché, but turns out that he gets the girl rather early into the movie... only for something very dark to happen (you won't believe it, but it's true). The third is that Walrus character just so happens to be a gangster, who makes a living not only from his theater, but from selling his actors drugs. This later goes quite insane when a character dies violently from sniffing something that wasn't a drug at all... but borax instead. These are, on my opinion, the most important plots, but it was hard to choose, considering that there are about 30 of them. The ending is very, very dark humor in my taste, though, as I got to know each character very well. By ending, I don't mean the end of the movie as in the ending, but before the ending. The actual end of the movie is in no way meant to be funny at all... expect for a bit of the beginning, somewhat quoting "I'm going to live!". However, without spoilers, I'll just tell you that it would be impossible to make a sequel. I do believe that's all I have to say... um, well actually, there's one more thing... HAPPY BIRTHDAY- oh, sorry, I mean, GOOD MOVIE!!! Despite the sad, sad ending...
Tyler Kirk
Super Reviewer
½
Peter Jackson's grotesque twist on The Muppets, is a decent enough watch if you want to see some puppets doing sick and depraved stuff. There's murder, sex, AIDS and drugs. The film is far too concerned with being grotesque, rather than funny. The voices don't have the delivery to really sell the lines. The final song and dance number is superb and the film is different enough to warrant a viewing, but it's not exactly enjoyable.
Luke Baldock
Super Reviewer
Meet the Feebles Quotes
There are no approved quotes yet for this movie.