Meeting Evil
(2012)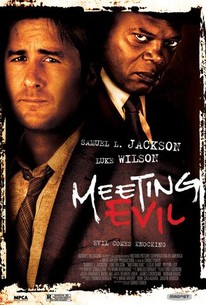 Movie Info
When John Fleton, a depressed suburban family man and recently fired realtor, offers to help a stranger, Richie, with his car, John is sucked into a surreal, nightmarish murder spree that forces him to question everything about his life, his mode of behavior, and the very nature of evil... -- (C) Magnolia
Critic Reviews for Meeting Evil
Audience Reviews for Meeting Evil
½
While it has an interesting story, Meeting Evil fails in its execution. After losing his job John Felton is picked up by a mysterious stranger and unwittingly drawn into his killing spree. Luke Wilson, Samuel L. Jackson, and Leslie Bibb lead the cast, and their performances are decent enough for the material. However, the characters are rather one-dimensional and aren't developed that much. Still, the plot has some intrigue and goes in a few unexpected directions (though it's not able to maintain suspense for very long). Meeting Evil has its moments, but is oddly mundane for a noir thriller.
Dann Michalski
Super Reviewer
½
A family man John Fleton (Luke Wilson) down and out on his luck, with his job and his relationship with his wife Joanie (Leslie Bibb) opens his door to a stranger in need of help for car trouble named Richie (Samuel L. Jackson) . Little did he know that his generosity in doing so would lead him to become entangled into Richie's lunatic violent killing spree. If Morgan Freeman can portray being God so well Samuel can sure play the devil when it comes down to insane dealings with morality. Richie has John so shaken up that he is forced to decide what acts he has to commit in order to maintain his sanity as well as protect his family. Pretty good suspenseful movie.
Fascade Fiveoneeight
Super Reviewer
"This reminded me of the movie "Hit List", that I just watched recently. (This review will be full of spoilers. So if this is something you wanted to watch, then please do skip reading this.) The outcome is pretty similar too. Hit man comes to kill husband. Husband doesn't know, thinks he's stumbled upon a friend then WHAM!!! Surprise! He starts randomly killing people. Oh, and this guy has a mistress too. Except in the other movie, the wife had the something on the side. So the movie goes on with the 'Hit Man' killing spree until finally John-the husband, is taken home with psycho wifey with cops there to protect them from the 'Hit Man'. Of course we all know the 'Hit Man' is going to show up and start mayhem. So mayhem comes and it is revealed that, SURPRISE! Psycho wifey wanted you dead. So what does said husband do? Fights 'Hit Man' until he's dead then gets into bed with crazy wifey like shit didn't happen at all. WTF is wrong with the writer of these films? Who the hell is going to get into bed with the crazy bitch who had hired someone to kill them? Just crap. I can't believe I watched two movies doing the same shit. Pure garbage and the waste of talented actors like Samuel L. Jackson and Luke Wilson."
♥˩ƳИИ ƜѲѲƉƧ♥
Super Reviewer
Meeting Evil Quotes
| | |
| --- | --- |
| Richie: | I'm gonna slit his fucking throat! |
| | |
| --- | --- |
| John Fleton: | I'm doin' everything I can. |
| Joanie: | What if that's not enough? |
| | |
| --- | --- |
| Richie: | All I do is kill people who are already dead. |