Megamind
(2010)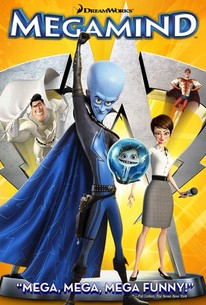 TOMATOMETER
AUDIENCE SCORE
Critic Consensus: It regurgitates plot points from earlier animated efforts, and isn't quite as funny as it should be, but a top-shelf voice cast and strong visuals help make Megamind a pleasant, if unspectacular, diversion.
Movie Info
Notorious Metro City villian Megamind (voice of Will Ferrell) becomes an unlikely savior to the troubled metropolis after defeating beloved do-gooder Metro Man (voice of Brad Pitt) and creating a new opponent who refuses to play by the rules. Megamind was only an infant when his parents loaded him into an emergency escape pod and jettisoned him into space just as their planet was being sucked into a black hole. His destination: planet Earth. Meanwhile, another slightly more wholesome baby sets out on the same trajectory. But while the latter will ultimately land in the home of a wealthy couple and grow up to become Metro Man, hero of Metro City, poor Megamind finds his fate taking the opposite course when his pod crashes in a prison yard, leaving him to be raised by convicts. Later, in grade school, the kids all flock to Metro Man, leaving a frustrated Megamind to embrace a life of diabolical misdeeds. As the years go by, Metro Man and Megamind develop an intense adversarial relationship that pits them in battle over Metro City time and again. Undeterred by his unbroken losing streak, Megamind hatches an ingenious scheme to finally destroy Metro Man by kidnapping pretty reporter Roxanne Ritchi (voice of Tina Fey), and luring the predictable hero into a deadly trap. Then something unexpected happens -- Megamind's plan actually works. Now, with Metro Man out of the picture, Megamind and his Minion (voice of David Cross) stake their claim on Metro City. But what good is ultimate power when you don't even have to fight for it? Realizing that life is simply out of balance without Metro Man to be the hero, Megamind creates a new foe who will be just as righteous and powerful as his fallen adversary. Unfortunately, Megamind's schemes usually have a way of backfiring, and when Metro City's newest savior proves even more evil than Megamind, the blue-hued antihero prepares to fight back with everything he's got. ~ Jason Buchanan, Rovi
News & Interviews for Megamind
Critic Reviews for Megamind
Audience Reviews for Megamind
One of the single funniest movies of all time, one of my favorite gags being the donkey kong reference. And all of the cast did a fantastic job. Plus the music was all perfectly picked out.
Michael Edwards
Super Reviewer
½
An entertaining, smart and funny animation that doesn't have a very original or imaginative story but is at least deliciously amusing, with some great twists that I never saw coming. It is infinitely better than Despicable Me, with which comparisons seem inevitable.
Carlos Magalhães
Super Reviewer
Megamind is a highly entertaining and inventive animated comedy that deserves far more praise than what it has received. I really thought that the film was one of those films that really exceeded expectations, and was quite good with the story, voice cast and 9of course animation. The film has plenty of good comedic bits, and to viewers who enjoy a fun, entertaining comedy that is engaging from start to finish, Megamind is definitely worth your time. I thought that the idea here was very good, and of course simple, and while using that, the filmmakers were able to pull off something quite memorable in the process. For what it is, it's an impressive Will Ferrell vehicle, and here he does some very good work as the lead character, Megamind. If you love animated features, Megamind is a film for you. With some great on-screen gags, well crafted story, and good performances from the talent voicing the characters, Megamind succeeds at being a wonderful animated comedy, one that uses the bare minimum to really grab your attention. I felt that this movie definitely deserved more praise than what it initially got, and it should belong among the most memorable genre films. Megamind has great characters, a good idea that just grabs your attention. What Megamind does so well is that it uses its cast to really elevate the film's material, and since the cast is comprised of some of today's funniest actors, it's what gives the film its edge to make it stand out among other animated features, that and it's visuals, effective direction and well thought out comedy. Megamind is well worth seeing if you enjoy animated features and it's a movie that is well worth your time.
Megamind Quotes
| | |
| --- | --- |
| Roxanne Ritchi: | So, that's it? You're just giving up? |
| MegaMind: | I'm the bad guy. I don't save the day, I don't fly off into the sunset and I don't get the girl. |
| | |
| --- | --- |
| Metro Man: | And I love you, random citizen! |
| | |
| --- | --- |
| Tighten: | Cool, so Thursday? Soft Thursday? 00:27:51 Chicks don't like bouncy houses. |
| Tighten: | Cool, so Thursday? Soft Thursday? Chicks don't like bouncy houses. |
| Roxanne Ritchi: | Good night Hal. |
| Tighten: | That's a soft yes on Thursday. Kicks news van in frustration. What's wrong with me? Renting a bouncy house? Chicks don't like bouncy houses, they like clowns! |
| | |
| --- | --- |
| Metro Man: | Revenge is a dish best serve cold! |