Melinda and Melinda
(2005)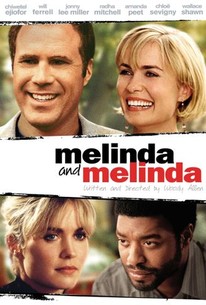 TOMATOMETER
AUDIENCE SCORE
Critic Consensus: Woody Allen's uneven Melinda and Melinda fails to find neither comedy nor pathos in what seems like a rehash of his previous themes.
Melinda and Melinda Photos
Movie Info
While Woody Allen has long fused comedy and drama in his films, he embraces the two styles in a new and unusual way in this feature. Sy (Wallace Shawn) is enjoying dinner with some friends when they begin debating the nature of the tragic and the humorous. Sy, observing that a very fine line separates the two, decides to demonstrate this notion by showing how the same essential story can be either funny or sad depending on the way certain elements are handled; for the rest of the film, we jump back and forth between two versions of the story of Melinda (Radha Mitchell), a young woman with some serious problems in her life. In the tragic version, Melinda crashes a dinner party thrown by old friends Laurel (Chloë Sevigny) and Lee (Jonny Lee Miller). When she arrives, Melinda is distraught and under the influence of pills and alcohol, much to the annoyance of Lee, an actor hoping to impress a producer who is one of his guests. After a bad breakup with her husband, Melinda lost custody of her children and came to New York City, where she became involved with Ellis Moonsong (Chiwetel Ejiofor), a handsome and well-mannered composer whose promises to her proved to be worthless. Meanwhile, on the funny side of town, Melinda shows up dazed and confused at the home of Susan (Amanda Peet) and Hobie (Will Ferrell), who are in the midst of a dinner party. Learning about the sad state of Melinda's love life after divorcing her husband and losing custody of her children, Susan decides to play Cupid and fix her friend up with a well-to-do dentist. However, neither Susan nor Melinda are aware that there is another man deeply interested in the troubled divorcée -- Hobie. Melinda and Melinda also features Josh Brolin, Vinessa Shaw, and noted theatrical director Gene Saks. ~ Mark Deming, Rovi
News & Interviews for Melinda and Melinda
Critic Reviews for Melinda and Melinda
Audience Reviews for Melinda and Melinda
I guess I have to see it again. Don't watch M & M if you are tired - it is too confusing realizing which story you are in.
½
Woody Allen has long made both dramas and comedies, and even some hybrids of the two. This film though, is perhap the first time where he really blended them in a unique or interesting way. The movie is a frame story sort of deal concerning a group of friends (two of which are playwrights) at a restaurant discussing which is the more true to life type of story: a comedy or tragedy? To make their respective points, they tell one love story about the same woman, two different ways, comedically and tragically, with each story having some of the same types of details) the initial setups, plot points, and just some small stuff like preference for certain things, etc). This is a really fun premise, and it's done pretty well. To really make things lively, the two stories are told intertwiningly, instead of one after the other, as a result, the movie as a whole is a giant ball of comedy and drama, but I'm not gonna say how it all ends, since that would spoil the fun. I'll just go ahead and say though, that the film does conclude in maybe the most appropriate way possible. Heck, you might even be able to figure it out just by the premise alone. I won't say which of the stories about Melinda is the better one, or the preferred one, since I just can't do it. They both have their strengths and weaknesses, offer up some universal truths, and have some good stuff going on. No, the film isn't perfect, and it does move kinda slow, and a lot of this is just more of Allen being Allen instead of truly branching out and doing something groundbreaking. However, even when he rehashes, it's a joy because he's just a great kind of artist whom you don't mind listening to every time he talks, even if he's repeating the same stuff over and over. The cast is populated with lots of names, from Radha Mitchell playing both sides of Melinda, Will Ferrell as the Allen surrogate, Wallace Shawn as one of the storytellers, and Chiwetel Ejiofor playing the only real character who actually seems fleshed out instead of just being a caricature or sketch of a real person. The performances are pretty good though, even if Ferrell doesn't quite make the role his own and Sevigny and Peet try hard but still sorta seem to struggle. Ejiofor and Mitchell are the best (hands down), but like I said, even though not everyone is great, no one really sucks here. I kinda wished for something that didn't seem to be very plodding or rather directionless at times, but I won't that this was boring or a waste of time. It's not completely satisfying, but it works pretty well as a side dish as opposed to a full meal, ie: watch it along with some other stuff instead of making it the highlight of a movie night.
Chris Weber
Super Reviewer
Even in his weakest movies, Woody Allen manages to make me think, and M and M was no exception. Is life really a comedy or tragedy according to the way you look at it? Probably. Will Ferrell was the surprise Woody Allen wannabee and he really pulled it off, I thought better than Woody manages to nowadays. None of these characters were anybody I liked, but I was rooting for all of them, so some magic was being performed somewhere. I look at this movie as something to be seen in the context of Allen's entire body of work, not as a single note.
Bathsheba Monk
Super Reviewer
Melinda and Melinda Quotes
| | |
| --- | --- |
| Ellis: | We're going to this little bistro in downtown west. It's very quiet, very dark, very french. |
| Laurel: | I haven't been to a dark bistro since college. |
| Ellis: | Well come on, you're going to love it. I've fallen in love there a bunch of times. |