Mélo
(1986)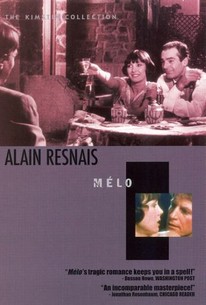 Movie Info
Director Alain Resnais faithfully adapted his script for Melo from a 1929 play by Henry Bernstein--the first time that Resnais handled his own screenplay. Violinists and lifelong friends Pierre Arditi and Andre Dussolier have each found happiness in adulthood, but only Dussolier has become famous. Ardati leads a contented life with his wife, Sabine Azema, little suspecting that she is enamored of Dussolier. An abortive plan to murder her husband leads to Azema's suicide, but Ardati remains blissfully unaware of her infidelities. When the truth is revealed to Ardati, Dussolier honors the memory of Azema by insisting that no illicit romance ever occurred. One of the more "linear" of Resnais' works, Melo, filmed in 1986, was given a general American release three years later.
Audience Reviews for Mélo
½
[font=Century Gothic]When I saw Alain Resnais' latest film, "Private Fears in Public Places" last year, I remarked that its theatricality was an aberration. After seeing his 1986 film "Melo" last night, I stand corrected. Its very staginess cannot be disguised by any amount of camera movement. [/font] [font=Century Gothic][/font] [font=Century Gothic]"Melo" is a banal melodrama set in Paris in the 1920's. Romaine(Sabine Azema) and Pierre(Pierre Arditi) are a happily married couple whose bliss is only marred by their childlessness. They are joined one evening for dinner by an old friend, Marcel(Andre Dussollier). By the time he departs, he extends an open invitation to the couple to come by and visit him to hear him play the violin. In the next scene, it is Romaine who has done so alone, initiating an affair with Marcel.[/font] [font=Century Gothic][/font] [font=Century Gothic]By the way, Marcel is something of a hypocrite, having terminated a serious relationship in the past because he jealously felt his lover was lying to him. Now, he betrays a close friend in an adulterous affair with his wife, which is by its very nature rooted in lies. [/font]
Mélo Quotes
There are no approved quotes yet for this movie.