Melvin and Howard
(1980)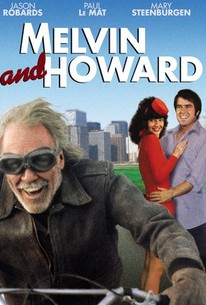 Movie Info
Outside Las Vegas, truck driver, milkman and aspiring songwriter Melvin Dummar gives a ride to a desert drifter who claims to be billionaire Howard Hughes. Several years later, Melvin produces a will that names him as an heir to the Hughes fortune!
Critic Reviews for Melvin and Howard
Audience Reviews for Melvin and Howard
After picking up a random hitchhiker who claims to be Howard Hughes, a truck driver goes on with the rest of his boring life until he finds out that Hughes left him a fortune. This film should be called Melvin because Howard appears for ten minutes and his presence is felt for about twenty. And the problem is that Melvin is a terribly boring character. He has a job problem and a love problem, but these aren't interesting conflicts, and frankly, Melvin is a douche. When he gets Howard's inheritance in the final act, it's a stroke of good fortune for a guy who could've withered away without anyone noticing. Overall, I'm surprised that Jonathan Demme is capable of Philadelphia and Silence of the Lambs but also capable of this and Rachel Getting Married.
Jim Hunter
Super Reviewer
"Melvin and Howard" is a charming but mediocre dramedy based on fact. Melvin Dummar is a Utah man (he is still alive) who claimed in 1976 to have received a hand-written will authored by Howard Hughes, in which he, Dummar, was named one of the beneficiaries of Hughes's estate. This happened just four years after another man, Clifford Irving, claimed to be collaborating with Mr. Hughes (who died in 1976) on an authorized autobiography. Hughes, who by then was a complete recluse, eventually came out publicly and stated that Irving's story was a hoax. This triggered a wave of fascination with hoaxes and forgeries. (See Orson Welles's terrible 1973 semi-documentary "F for Fake," which contains a lot of footage of Irving.) "Melvin and Howard" presents the Dummar story as if it were true. Bo Goldman, who won an Oscar for the screenplay, imagines what Dummar's life must have been like. Mary Steenburgen, who won a Supporting Actress Oscar for her work in the film, plays Dummar's wife. Goldman and director Jonathan Demme (this was Demme's sixth film) present Dummar and his wife as semi-retarded. But somehow it comes across as an affectionate portrayal. There's a lot that's charming about the film. It captures the milieu of down-and-out Western folk as well as "Five Easy Pieces" did, but with more comedy than tragedy. But both the comedy and drama are pretty light. I just kind of sat there limply watching it. Almost everything about it is flaccid. (Just incidentally, 1980 was the year of "Raging Bull," "Coal Miner's Daughter," "The Elephant Man," and "Ordinary People," which won the Oscar for Best Picture -- four of my all-time favorite films. What a good year for film.)
William Dunmyer
Super Reviewer
½
This movie weird-ed me out. Robards doesn't have much screen time though his character is part of the title. La Mat plays a really odd guy who I didn't understand much. And Mary Steenburgen plays a stripper!? She thinks she dances really well and supposedly everyone around her gives her positive feedback, but she doesn't. I guess it's kind of funny, but not really, to watch all these sad hopeless people.
Byron Brubaker
Super Reviewer
Melvin and Howard Quotes
There are no approved quotes yet for this movie.