Memoirs of a Geisha
(2005)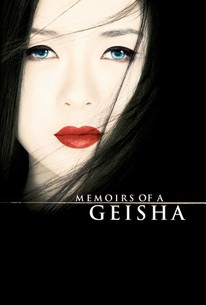 TOMATOMETER
AUDIENCE SCORE
Critic Consensus: Less nuanced than its source material, Memoirs of a Geisha may be a lavish production, but it still carries the simplistic air of a soap opera.
Memoirs of a Geisha Videos
Memoirs of a Geisha Photos
Movie Info
In the years before World War II, a Japanese child is torn from her penniless family to work as a maid in a geisha house. Despite a treacherous rival who nearly breaks her spirit, the girl blossoms into the legendary geisha Sayuri. Beautiful and accomplished, Sayuri captivates the most powerful men of her day, but is haunted by her secret love for the one man who is out of her reach.
News & Interviews for Memoirs of a Geisha
Critic Reviews for Memoirs of a Geisha
Audience Reviews for Memoirs of a Geisha
½
The visuals and technical aspects are indeed spectacular, but the film's flawed narrative, while enjoyable to follow for most of the time, is like a cheap soap-opera that even comes up with a ridiculous revelation in its pathetic, melodramatic last half hour.
Carlos Magalhães
Super Reviewer
½
Taking on an immense time period and a form of culture that has never been appropriately touched upon, this film does a lot with the book it's based on, creates a wonderful tapestry of history, culture, and most importantly, shows women as commodities. The story begins with a poor little girl in China, who is sold, along with her sister, to a geisha house in a metropolis. She is disconnected with her family, eventually becomes orphaned, and has to move through societal traverses in order to become a geisha, all just so she can survive. The story is not all about her struggles as a woman in a territorial society. The geisha, Sayuri, is also in love with a Chairman whom she met while in her struggles. She is peaceable, quiet, and contemplative at all times, and though she doesn't grow up as a geisha, she acts the part at all times. Zhang Ziyi's performance as Sayuri speaks on the quietness of women in 1920s China, about the art form that exemplified being a geisha, and the taciturn power women held when they used their sexuality as a form of power. There are struggles for power between geisha houses and the women try to gain agency and yet let themselves slip into oblivion time and again and yet feel like they're climbing the social ladder. While Sayuri simply tries to stay in the game in order to win affection and finally be loved, others remotely care about their future as a possible Madame and their link to a future of exploitation. The geisha culture itself is not always explained in the full way it was in the book, and some of that translation is left to be interpreted through intense cinematography, immense sets, period clothing, and the performances from actresses Gong Li, Michelle Yeoh, and Youki Kudoh. It feels and looks as Japanese as a Western audience can expect, but most of the time it felt belabored, longwinded, and far too Hollywood. A Japanese adaptation would have been more powerful, daring, and ultimately may have accomplished what this film lacked. There wasn't much that is learned about what it is to be a geisha from this film except several parlor tricks. As a film that represents history, many of the customs and elaborations weren't correct, and it relied on baseless events in order to drag the film an extra forty minutes in screen-time that it didn't need. The ending was predictable from almost the beginning of the film, but I enjoyed the sappiness of a good love story. Though the film was criticized for using Chinese actresses for Japanese parts, the performances themselves were interesting, especially Gong Li's. The story though is ultimately tried and true, and though this Americanized, saturated version isn't what I expected, it does do what the audience really wants.
Spencer S.
Super Reviewer
Letitia Lew
Super Reviewer
Memoirs of a Geisha Quotes
| | |
| --- | --- |
| Sayuri: | I am not worthless! |
| | |
| --- | --- |
| Sayuri Narrator: | After all, these are not the memoirs of an empress, nor of a queen. These are memoirs of another kind. |
| | |
| --- | --- |
| The Baron: | Mameha asked me to show you my kimono collection. It's quite venerated. My grandfather and father collected kimonos. I've given a number of valuable kimonos to Mameha; I like to give presents to beautiful girls. |
| | |
| --- | --- |
| Sayuri: | [As narration] The heart dies a slow death. Shedding each hope like leaves, until one day there are none. No hopes. Nothing remains. She paints her face to hide her face, her eyes a deep water; it is not for Geisha to want, it is not for Geisha to feel; Geisha is an artist of the floating world. She dances. She sings. She entertains you - whatever you want. The rest is shadows: the rest is secret. |
| Sayuri: | The heart dies a slow death. Shedding each hope like leaves, until one day there are none. No hopes. Nothing remains. She paints her face to hide her face, her eyes a deep water; it is not for Geisha to want, it is not for Geisha to feel; Geisha is an artist of the floating world. She dances. She sings. She entertains you - whatever you want. The rest is shadows, the rest is secret. |