Memories of Underdevelopment (Memorias del subdesarrollo)
(1973)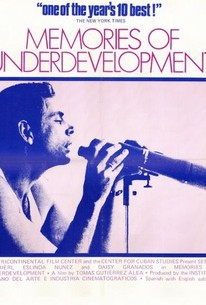 Movie Info
The first Cuban film made after Fidel Castro's revolution to receive widespread distribution (and acclaim) in the United States, Memories of Underdevelopment is not exactly a broad endorsement of Castro's new Cuba. Its protagonist, Sergio (Sergio Correri) is depicted in the opening scenes as happy to see off his wife and parents and friends; they are fleeing Cuba in the wake of the Bay of Pigs invasion for America. He is skeptical of the ability of the Revolution to make a real change in Cuban society, observing that it is only the latest passion for an ever-changing society. Although Sergio's family furniture business has been taken over by the state, he still has a modest income as the landlord of several apartment buildings. He spends much of his time observing, either by walking the streets of Havana or using his telescope to spy on others from the safety of his apartment balcony. His passion is women, and in Elena (Daisy Granados), he finds an especially attractive object of desire. Her lack of experience excites him, but it almost proves his undoing when he decides to move on to other prey and Elena's family accuses him at a public trial of seducing and raping her. Acquitted and temporarily chastened, Sergio muses on what a new crisis, the discovery of Soviet missile installations by the United States, will mean for his island and his future. Filmmaker Tomás Gutiérrez Alea's next widely distributed film, 1994's Strawberry and Chocolate, was even more critical of the Castro government, focusing on its persecution of homosexuals. ~ Tom Wiener, Rovi
Critic Reviews for Memories of Underdevelopment (Memorias del subdesarrollo)
Audience Reviews for Memories of Underdevelopment (Memorias del subdesarrollo)
Inspired by French nouvelle vague and Italian neorealism, Gutierrez Alea tells a picaresque and penetrating character study of a Cuban bourgeois trying to find his identity among the people living in the recently established socialist regime of Fidel Castro. A look on the underdeveloped Latin America that is deep down inside quite bitter, corrosive and deprived of hope.
Pierluigi Puccini
Super Reviewer
Memories of Underdevelopment (Memorias del subdesarrollo) Quotes
There are no approved quotes yet for this movie.