Memory
(2006)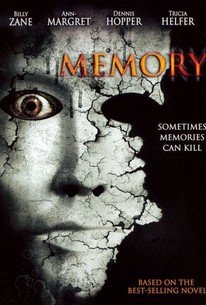 Movie Info
A man with the ability to see into the past sets out to solve a dark mystery that has haunted his family bloodline for three decades in director Bennett Davlin's time-shifting thriller. Dr. Taylor Biggs (Billy Zane) has accidentally ingested a hallucinogenic powder that allows him to experience his ancestor's most vivid memories, and now he is seeing images of a nightmarish predator who abducts and murders young girls. As Dr. Biggs begins to realize that these memories come from a time before he was even born, his suspicions that the killer may in fact be the father he never knew continue to grow stronger with each passing day. Though his mother is still alive, her fading memory has grown increasingly foggy and clouded with the passing of time. With the horrifying final moments in each victim's life consuming his every waking thought, Dr. Biggs sets out to unravel the secrets of his past and unmask a killer who appeared to have, in life, gotten away with murder.
News & Interviews for Memory
Critic Reviews for Memory
Audience Reviews for Memory
Memory is one of the best direct-to-video/b-movies I have ever seen. How a small production company gets a cast like this is beyond me, but this was just a great movie! Billy Zane is a guy with a clouded past, who decides to use an experimental drug to restore his memory. Only to vividly remember a murder he witnessed, but was it his memory or someone else's? I don't like Zane one bit, but in this movie, he's pure genius. What was really striking about this film, (especially since it's a low budget b-movie), was the imagery. Everything is so vibrate and methodically done. First time director, Bennett Davlin, really has you sitting on the edge of your seat. It really feels like you're alongside Zane, seeing what he sees. As for the ending, I never saw it coming. I've seen a lot of films, and you've got to have a pretty good story to surprise me! It's a film you've never heard of and won't see in theaters, but it's defiantly one that shouldn't be missed.
Todd Smith
Super Reviewer
½
Does anyone but me notice that Billy Zane does NOT age?? Hmmmm...anyway. I like him.. Always have...but his movies are average at best. This one included. It's fairly predictable, but the script is decent and keeps you engaged. Extra 1/2 star for Billy's immortality.
Cynthia S.
Super Reviewer
It's very hard to write a positive review of a movie which is not appealing on a first sight for the most of the viewers... but I'll do just that! This is a real thriller with a lot of twists. It was slow at the beginning but during the last part that slowness helped the ending which reveals the truth in clensing and furious fire... It's not one of the best movies I watched but it's not in the category of boring ones either! Judge it for yourself...
Memory Quotes
There are no approved quotes yet for this movie.