Men in Black III
(2012)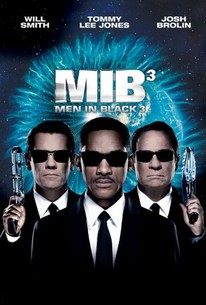 TOMATOMETER
AUDIENCE SCORE
Critic Consensus: It isn't exactly a persuasive argument for the continuation of the franchise, but Men in Black III is better than its predecessor and manages to exceed expectations.
Movie Info
In Men in Black 3, Agents J (Will Smith) and K (Tommy Lee Jones) are back...in time. J has seen some inexplicable things in his 15 years with the Men in Black, but nothing, not even aliens, perplexes him as much as his wry, reticent partner. But when K's life and the fate of the planet are put at stake, Agent J will have to travel back in time to put things right. J discovers that there are secrets to the universe that K never told him -- secrets that will reveal themselves as he teams up with the young Agent K (Josh Brolin) to save his partner, the agency, and the future of humankind. -- (C) Sony
News & Interviews for Men in Black III
Critic Reviews for Men in Black III
Audience Reviews for Men in Black III
MIB3 takes place 14 years after the events of the first film and history has been altered by an escaped convict captured by agent K (Tommy Lee Jones) who went back in time and killed agent K in the past when he "attempted" to capture him. Agent J (Will Smith) is now going back in time to try and save K from being killed by this said alien. Like with the other 2 MIB films, the films have extremely good CG and the designs of the aliens all look incredibly interesting and innovative and this movie is no exception in fact these aliens I think look the best out of the past aliens in the other two films. Mainly the main villain Boris the animal, mainly due to the fact that you get little glimpses of what he can do and some little hints of his true form but you never see him in his true alien form until the last 20 minutes and its only for a few seconds. The main thing where this movie shines is in the acting. The acting compared to the other movies is incredibly well done and probably the best acting i've seen in a while in a film. The character interactions with J and the young K (Josh Brolin) is just hysterical and the two both work off each other very well in moving the plot along and are both just flat out entertaining to watch interact with each other and the other characters. Also Boris the animal is a very, very intimidating villain and my favorite of the villains in the three films. The sheer anger and enjoyment that is shown in this performance is just incredible and he is much more developed villain rather than in the second film or the villain in the first film who were majorly underdeveloped in my mind and just not that interesting. Sure they were intimating but they were never really interesting villains and were just there for the sake of being the villain. One performance that I really enjoyed though being only in the movie for only about 5 minutes was Bill Hader as Andy Warhol AKA Agent W. This performance, though very short is just flat out hilarious mainly due to how he interacts with Will Smiths character and how he hates his guts so much and how well he pulls off Andy Warhol so well and shifting from calm and cool to just a flat out dick in every sense of the word. Overall MIB3 is a major improvement over the second film and to me is the best of the three films and yes I enjoy the first film but nowhere near as much as the third film. Its well acted, has a fantastic plot and has some great effects. Final rating 4*S out of 5
Michael Edwards
Super Reviewer
An enjoyable but forgettable sequel that doesn't bring anything new to the series. This time we don't have so much of that onscreen chemistry between Smith and Jones (who is absent during most of the film), but Brolin steals the show as a younger version of Jones.
Carlos Magalhães
Super Reviewer
The unlikely buddy cop team up of urban, hip, black guy with redneck, common sense, good ol' boy (does this conceit still carry currency? you betcha ... so much for the 21st century ushering in dynamic social change) returns to seduce you to pony over more popcorn money as the time travel card is laid out to spice up the old aliens among us formula. Luckily the stars bring the charm to keep sleep away while the hoary old chestnut is pranced about. And guess how it ends? They really like each other after all. More popcorn please.
Kevin M. Williams
Super Reviewer
Men in Black III Quotes
| | |
| --- | --- |
| Agent J: | Just because you see a black man driving in a nice car, does not mean it's stolen! Ok, I stole that one, but not cause I'm black! |
| | |
| --- | --- |
| Boris the Animal: | Let's agree to disagree. |
| | |
| --- | --- |
| Agent K: | Boris the Animal! |
| Boris the Animal: | It's just Boris! |
| | |
| --- | --- |
| Agent J: | You must be from the planet "Damn". |