Men of Boys Town
(1941)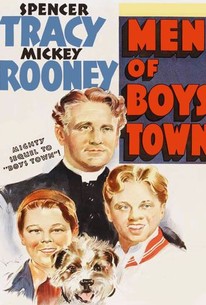 Movie Info
In this sequel to the 1938 boxoffice hit Boys Town, Spencer Tracy repeats his Oscar-winning role of Father Flanagan, with Mickey Rooney likewise reprising his characterization of reformed hoodlum Whitey Marsh. Still operating on the theory that "No boy is bad, if given a chance", Father Flanagan has created Boys Town, a nondemoninational sanctuary for wayward and homeless youngsters in Omaha, Nebraska. Despite the success of his operation insofar as building the character of his charges, the good Father is confronted with ever-mounting debts, and this time not even his old pawnbroker pal Dave Morris (Lee J. Cobb) can come to the rescue. Meanwhile, Whitey Marsh is adopted by the Maitlands, a wealthy couple--a fact that disillusions a sullen, crippled youngster named Ted Martley (Larry Nunn), who'd hoped that the Maitlands would choose him. Upon leaving Boys Town, Whitey tries to pay a visit to his old pal Miles Fenley, who is an inmate in a crooked reform school, but is denied entrance. Driving away from the reformatory, Whitey discovers that a boy from the school, Flips (Darryl Hickman), has stowed away in his car. Whitey agrees not to turn Flip in--a decision he has reason to regret when he is arrested for a robbery committed by Flip. Sent to the same reform school as Miles Fenley, Whitey learns first-hand of the institution's corruption and brutality. He manages to get word to Father Flanagan, who despite his ongoing financial woes takes on the reformatory's unsavory officials and secures a release for Whitey and Flip. But there is still one problem to overcome: Convincing the resentful Ted Martley that the world isn't as bad as he thinks it is. Boasting enough plots for ten films, Men of Boys Town may not have been as good as its predecessor, but it proved to be another box-office bonanza for Spencer Tracy and Mickey Rooney.
Critic Reviews for Men of Boys Town
Audience Reviews for Men of Boys Town
½
It's Whitey, Pee Wee, Flip, Mo, Pete and Bohunk. Not quite as sappy as it's predecessor, The Men of Boys Town chronicles the continuing saga of Father Flanagan and his innovative home for troubled youth. Cheesy but sweet. *NOTE: The 'slow motion wrestling' is hilarious!
Randy Tippy
Super Reviewer
Men of Boys Town Quotes
There are no approved quotes yet for this movie.