Men with Brooms
(2002)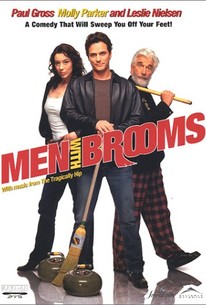 Movie Info
Paul Gross acts as writer, director, and star for this sports comedy about a Canadian curling team. When Chris Cutter (Gross) left his hometown of Long Bay, Ontario, he threw his team's curling stones into the lake and left his bride, Julie (Michelle Nolden), standing at the altar. Ten years later, the curling club's leader, Coach Foley, decides to start up the team again. However, he has a heart attack and dies while trying to retrieve the curling stones from the lake. Returning for the coach's funeral, Cutter fondly remembers his old curling days and decides to follow the terms of the coach's will: to win the prestigious Golden Broom championship. In order to fulfill this goal, Cutter brings the original members of Long Bay Curling Club back together, including mortician Neil (James Allodi), troublemaker James (Peter Outerbridge), and would-be father Eddie (Jed Rees). Chris also reunites with his own estranged father, Gordon (Leslie Nielsen), and gets involved with Julie's recovering alcoholic sister, Amy (Molly Parker). Features original music and special appearances by Canadian rockers the Tragically Hip.
Critic Reviews for Men with Brooms
Audience Reviews for Men with Brooms
½
Men with Brooms is a decent comedy, with a decent cast. Unfortunately Paul Gross has tarnished the "career" he's supposedly had when he directed the beyond awful "war" film, Passchendaele. Therefore this film is eclipsed by that film. Anyhow, before Passchendaele's release, Gross directed this film, and I did somewhat enjoy it, but it lacked something to make it memorable. The idea for the film was interesting, and the gags are good for what they are, but the script does show limitations and the film could have been better. There some good jokes in this film, unfortunately to due an underdeveloped script; most of them fall flat, and go nowhere. The cast (aside from Gross, cause he's a tool) are pretty good here, and I personally think that if Gross wasn't involved in the film, it would have made quite the difference. For what it is, Men with Brooms is a funny little film, and despite the fact this was directed by Paul Gross, it's not as awful as his later film, Passchendaele. The film does have good comedic elements that for the most part are good, and work well enough to be an entertaining film. Overall not a perfect film, but good to watch with friends. The film has some good laughs, despite the fact it's uneven. Watch Men with Brooms but skip on Passchendaele.
½
Funny, charming and great to see Leslie Nielsen in something not over-the-top dumb. This movie isn't meant to be a blockbuster full of highly paid actors. It's just a good, well thought out movie, packed with lesser-known actors. That's why I easily overlook the several missed chances at more humor. Luckily there are a few laugh out loud moments which helps.
Cynthia S.
Super Reviewer
A wacky, heartfelt and hilarious comedy. A great film. Filled with great laughs, compelling characters, smart lines and lots of music from great bands. The actors have sharp and compelling chemistry. Paul Gross crafts a wonderfully crafted and well-written movie gem. Giving his best and most liketable performance and character since his Tv show Due South. Leslie Nielson is brilliant. men with brooms is a comic dazzeler.
Men with Brooms Quotes
There are no approved quotes yet for this movie.