Ménage (Tenue de Soirée)
(1986)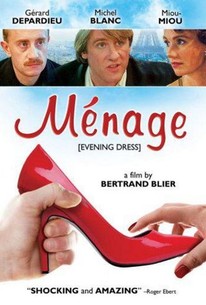 Movie Info
Bertrand Blier's wry comedy about a charismatic bisexual burglar (Gerard Depardieu) who disrupts the life of a married couple (Michel Blanc, Miou-Miou). A.k.a. "Ménage." Art Collector: Bruno Cremer. Depressed Man: Jean-Pierre Marielle. Pedro: Michel Creton.
Critic Reviews for Ménage (Tenue de Soirée)
Audience Reviews for Ménage (Tenue de Soirée)
"Menage" starts with a night out on the town for Monique(Miou-Miou) and her husband Antoine(Michel Blanc). However, instead of enjoying themselves, she spends her time berating him for the lousy state of their lives.(To be honest, their place is a dump.) Enter Bob(Gerard Depardieu), a handsome stranger, who invites them into the exciting world of breaking and entering. So while his huge proboscis leads them to wealth unimaginable, it also as often leads them into trouble... "Menage" is a wickedly entertaining movie from Bertrand Blier wherein he manages with his usual deftness to simultaneously keep the characters and audience off balance throughout which is no surprise considering the characters' no fixed abode. If the movie had stopped for any period of time, it might have given us a chance to take note of the didactic nature of the dialogue. As it is, it is one long intelligent and honest stream of pure debate on the state of marital relations, as the movie seeks to subvert the normal in any way possible. And Antoine's shock at Bob's advances is not any sign of gay panic; it is just that he is too uptight for words. That like everything else will soon change.
Ménage (Tenue de Soirée) Quotes
There are no approved quotes yet for this movie.