Händler der vier Jahreszeiten (The Merchant of Four Seasons)
(1971)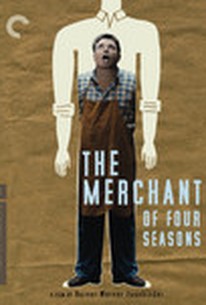 Movie Info
Der Händler der vier Jahreszeiten (The Merchant of Four Seasons) is about the deterioration of a man's soul. Fruit vendor Hans (Hans Hirschmüller) cannot please his family. His mother harps on his failures. His wife is openly discontent. He must peddle produce to his beloved ex-girlfriend, and he is mocked by his customers for being shorter and fatter than his wife. He is withdrawn, crushed, and humiliated. He turns to drinking and violence, but his rage causes his wife and daughter to leave him. While desperately begging for their return, Hans suffers a debilitating heart attack. His family comes back, but Hans is unable to work and must hire help for his fruit stand. Hans' first employee is his wife's ex-lover, whom he fires for embezzling. He then hires a friend and hero from his legionnaire days, Harry (Klaus Löwitsch), out of pity. Harry is hardworking, diligent, and clever. He turns Hans' business around and enlivens his home life. Harry's success also begins to displace Hans -- with his fruit stand, with his wife, and even with his child. Hans becomes useless, a nothing -- exactly what his mother, his wife, and those around him set him up to be. ~ Aubry Anne D'Arminio, Rovi
Critic Reviews for Händler der vier Jahreszeiten (The Merchant of Four Seasons)
Audience Reviews for Händler der vier Jahreszeiten (The Merchant of Four Seasons)
½
Fassbinder stops experimenting and goes back to storytelling, and the film is all the better for it.
Marcus Woolcott
Super Reviewer
½
"The Merchant of Four Seasons" is a grim portrait of a troubled fruit seller. Scarred by an unloving mother and unrewarding stints in the Foreign Legion and the police, he struggles to keep his modest business afloat while enduring a loveless marriage in which both partners are unfaithful. He drinks too much and beats his wife, but his self-loathing becomes wholly unmanageable after he suffers a heart attack and can't work anymore. He hires others to peddle his stock, but they only make his masculinity feel more threatened. "Merchant" is actually easier to watch than many Fassbinder films. Its scenes are shot in brightly lit interiors, and there is no murky musical score to endure (in fact, there's no score at all). The cast is loaded with good faces to study, and a splash of full frontal nudity (alas, the luminous Hanna Schygulla stays dressed) will tickle the audience's libido.
Eric Broome
Super Reviewer
A turning point in Fassbinder's career with the consolidation of his style as a storyteller; a film in which he explores emotional tragedy using a theatrical frame (the acting, mise-en-scène, the distinct palette of colors) to make a striking commentary on the petit bourgeois mentality.
Carlos Magalhães
Super Reviewer
Händler der vier Jahreszeiten (The Merchant of Four Seasons) Quotes
There are no approved quotes yet for this movie.