William Shakespeare's The Merchant of Venice
(2004)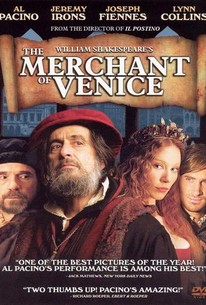 William Shakespeare's The Merchant of Venice Photos
Movie Info
One of William Shakespeare's most powerful comedies has been given a bold cinematic adaptation in this film version of The Merchant of Venice. Bassanio (Joseph Fiennes) is a young and vital member of the aristocratic classes in 16th century Italy; however, Bassanio's impulsive nature and lavish lifestyle have put him deeply in debt, and he will need at least the pretense of a fortune if he is to win the hand of the beautiful Portia (Lynn Collins). Bassanio turns to his close friend Antonio (Jeremy Irons), a successful businessman, for financial help, but with much of his fortune tied up in a sailing expedition, Antonio can do little to help him. To help Bassanio, Antonio turns to Shylock (Al Pacino), a Jewish money lender who lives in Venice's Semetic ghetto. Antonio has often expressed his contempt for Shylock, who charges high rates for his loans, and Shylock clearly seems pleased at the ironic prospect of having Antonio as a customer; however, instead of interest, Shylock demands an unusual security on his loan -- though Shylock demands no interest, if Antonio does not repay the three thousand ducats in three months, Shylock will be entitled to a pound of his flesh. This version of The Merchant of Venice was directed by Michael Radford, best known for the international hit Il Postino, and was shot on locations in Venice and Luxembourg. ~ Mark Deming, Rovi
Critic Reviews for William Shakespeare's The Merchant of Venice
Audience Reviews for William Shakespeare's The Merchant of Venice
This is a true and superb work of art. A fantastic piece of Shakespeare that anyone who is a fan, should see immediately. Director, Michael Radford crafts a beautiful and emotionally gripping masterpiece. A thrilling, engaging and breathtaking movie. It's tastefully romantic, sharply funny and sensationally entertaining. All the performances are in the film are incredible and deserve to be noticed by every audience. Al Pacino is brilliant, he gives one of the best performances of his career and one of the greatest performances given in a film adaptation of Shakespeare's work. Jeremy Irons is terrific. Joseph Fiennes is magnificent. Lynn Collins is a revelation.
Saw it last night on DVD and my husband and I are still talking about it this morning: is it anti-Semetic? Can you talk about uncomfortable things without appearing to endorse them? I thought it was beautifully done; Pacino was great as the self-righteous man who looks to the law for his comeuppance and instead finds himself hung by the law--a wonderful take on the fact that the ruling class will always have its way no matter how just your cause. Irons played a somewhat cowardly Antonio...was he like that in the play? Don't remember. Fiennes was singularly unappealing as Bassanio. Wassup with that, Portia? The unbelievable bit of Portia and her maid playing learned (though young and male) doctors from Padua was so hare-brained it was like something out of a Woody Allen film (specifically the part in Sleeper where Diane Keaton and Woody Allen are operating on the dictator's nose), but that's Shakespeare, not Radford, so can't fault the movie.
Bathsheba Monk
Super Reviewer
The world was raising. Thunderous canyons shot from below to meet my footsteps. Forests rose and died behind my back. Birds evolved and turned to dust before me. The sky was fire and shadow, and it covered the sun like a closing fist. My hair was a wild brown spirit dancing in the tempest. My consciousness tore apart into a thousand different pieces, each shot itself like a rocketship to a thousand stars. The moon crashed into the earth. Humanity begged to be. Civilization threw its hands up. Existence screamed. My body is an auditorium. Memory is music fading, acoustics wearing. Starlight is taxed. Clouds rule the universe. The bridges I walk end before they begin. All the islands and planets are sinking. An air just above me is a melancholy fragrance, and yellowness stains reality. The madness of my flesh is annihilated. I am just a tangle of wires choking a soul, stranded in a breath and under the dead mountains. The edge is deep. I let go, and fall back into a flock of glimmering crystal angels. I dream that they are building me beautiful white wings.
Neum Daddy
Super Reviewer
William Shakespeare's The Merchant of Venice Quotes
There are no approved quotes yet for this movie.