Merci pour le chocolat
(2000)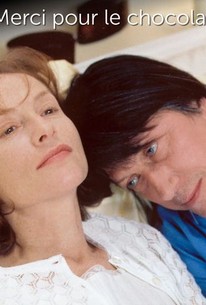 Merci pour le chocolat Photos
Movie Info
Claude Chabrol directed this well-crafted thriller, which recalls the style and themes of his best-known work of the 1960s. Marie-Claire "Mika" Muller (Isabelle Huppert), who has inherited control of a large and successful Swiss chocolate company, remarries well-known musician André Polonski (Jacques Dutronc), to whom she was briefly wed 18 years ago. After their divorce, André married a woman named Lisabeth and they had a son, Guillaume (Rodolphe Pauly), whom André was left to raise alone after Lisabeth's death in an auto accident. One of André's favorite stories is how Guillaume was almost exchanged for another baby at the hospital shortly after he was born; one day André receives a visit from a young woman named Jeanne (Anna Mouglalis), who claims to be the other child. Jeanne and André soon find they have a remarkable amount in common, and that Jeanne bears a striking resemblance to the late Lisabeth. Jeanne is beginning to wonder if there's something no one has ever told her when Mika gives her a thermos of special hot chocolate as a nightcap, which she then spills all over Jeanne. Jeanne's boyfriend, Axel (Mathieu Simonet), facetiously suggests that the cocoa might be poisoned, and out of curiosity, he tests it, finding that it has indeed been laced with a sedative notorious for its use in cases of date rape. Merci Pour le Chocolat is based on a novel by American crime novelist Charlotte Armstrong.
Critic Reviews for Merci pour le chocolat
Audience Reviews for Merci pour le chocolat
A somewhat average thriller from Chabrol. It starts out well enough, but losses it towards the end and ultimately leaves too many questions unanswered. However despite it's weaknesses it's always worthwhile watching Huppert and at least you get to listen to Liszt's 'Funerailles' pretty much throughout the film.
½
[font=Century Gothic][color=red]Watching a Claude Chabrol film is like walking along, looking up at the sky for UFO's while not seeing the wall, that you're about to walk into. Chabrol's films are refreshingly straight-forward which can work very well in a film like "This Man Must Die" but can also backfire like it did in "Flower of Evil" where everything that is ever going to happen to the characters is revealed in the first ten minutes; the next eighty minutes is just a complete waste.[/color][/font] [font=Century Gothic][color=#ff0000][/color][/font] [font=Century Gothic][color=#ff0000]Another film, that he directed, "Merci Pour Le Chocolat" starts out with a wedding of two middle aged people - concert pianist, Andre Polonski and chocolate factory owner Mika Muller. Then, we shift to a story being told to a young concert pianist, Jeanne Pollet, about a near mixup at the hospital when she was born between her and the Polonskis' baby. Jeanne imagines herself as Polonski's daughter. Oh, and Polonski's first wife died, falling asleep at the wheel of the car...So, what transpires is a thoughtful rumination on family and genetics that ends on a suspenseful note. [/color][/font][font=Century Gothic][color=#ff0000][/color][/font] [font=Century Gothic][color=#ff0000][/color][/font] [font=Century Gothic][color=#ff0000]Note: at the wedding, one of the characters mentions that Polonski is a great pianist but not a great human being.(It is true that the only thing that interests Polonski is playing the piano which forges a quick bond between him and Jeanne.) Which got me thinking about whether or not any resemblence between the fictional Polonski and the real life Roman Polanski was intended.[/color][/font]
Merci pour le chocolat Quotes
There are no approved quotes yet for this movie.