Mercury Rising
(1998)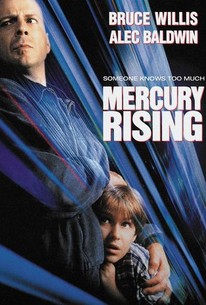 TOMATOMETER
AUDIENCE SCORE
Critic Consensus: Mercury Rising lays the action on thick, but can never find a dramatic pulse to keep viewers -- or Bruce Willis -- engaged with its maudlin story.
Movie Info
In this action suspense thriller, nine-year-old autistic savant Simon deciphers a government code and calls in for his prize. Worried about national security, NSA officials send an assassin to kill him. His parents are killed but he is saved by an FBI agent who drags him through Chicago to protect him.
Critic Reviews for Mercury Rising
Audience Reviews for Mercury Rising
½
This is a rather formulaic, and predictable thriller, which is a real shame since the premise had a lot of potential. Bruce Willis stars as an outcast FBI agent whose chance at redemption comes in the form of protecting a 9 year-old autistic boy who managed to crack a high level government code hidden in a puzzle book. The code got cracked, and due to the secrets involved with it, the cracker has to apparently be silenced, and that's where the film fails to live up to some of its potential. The target is a young autistic kid, and I can't really remember anyone challenging the moral question of eliminating the kid given the circumstances. The film sorta toys with the idea of who is more of a villain, but mostly it just relies on being a typical cat and mouse chase thriller. Willis tries his best with the material, but doesn't do anything remarkable. The same can be said for most of the cast, save for Miko Hughes as the autistic kid, who actually does show some chops with having to play a difficult part with some amount of sensitivity and nuance. See this if you want, but don't expect much since, despite the premise, it's a rather forgettable piece of work.
Chris Weber
Super Reviewer
Nobody's trying hard at all in this by-the-numbers Willis vehicle that has him up against a government conspiracy --- ho-hum. To demonstrate evolution: the F.B.I. useta be the bad guys in this sort of thing, but herein Willis plays one, howbeit a "rogue" agent. Oooooo.
Kevin M. Williams
Super Reviewer
did not have a good plot. really bad acting.
erika bruhns
Super Reviewer
Mercury Rising Quotes
There are no approved quotes yet for this movie.