Mercy
(2016)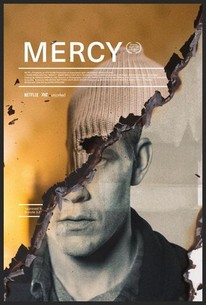 AUDIENCE SCORE
Critic Consensus: No consensus yet.
Movie Info
Four adult brothers reconvene at their childhood home to say their goodbyes to their dying mother. But as their large inheritance becomes an issue, the brothers find themselves fighting for survival when masked intruders break into the house. Chris Sparling wrote and directed this thriller, which stars James Wolk, Tom Lipinski, and Caitlin FitzGerald.
Critic Reviews for Mercy
All Critics (2) | Fresh (2) | Rotten (0)
Mercy reaches another level when it doubles back, showing us the same events from the point of view of the other characters, allowing Sparling to answer some of the questions that are dangling while inserting more
For the most part, Mercy is a tense, often very frightening little home invasion chiller that makes great use of a terrific cast, isolated setting and some neat twists on the sub-genre.
Audience Reviews for Mercy
½
Oh look, this has the same name as the last film I reviewed. Talk about funny. Well, it's not really that funny, it's just a way to start out this review. I was genuinely intrigued by this. It's not a completely new concept, what is nowadays really, but it's one that I was intrigued to watch play out. The sad thing is, however, that the movie devolves into your typical home invasion thriller until, maybe, the last act. And not even the last act, it's more like the last 10 minutes or so of the film. I believe that the last 10 minutes will either make or break this movie for a lot of people. But we'll leave that for later. Basically, as I haven't check this movie's page on Flixster (I'm writing this review on Gmail due to the fact that it saves drafts), the movie sees two sets of half-brothers come back home, as their mother is dying. Brad and Travis do not get along with their half-brothers, TJ and Ronnie. That helps set the mood and tension for the first 25-30 minutes of the movie. As the brothers argue among themselves over the inheritance and the contents of a black bag that was left by a doctor in the very first scene of the movie. The contents of this black bag are, ultimately, what drives the movie forward. As the only thing home invaders only want is for the family to use the contents of the bag. The film plays with that in an interesting way, because you're never quite sure who's right or wrong, and whether or not using the contents in the bag will only help ease the mother's pain before she dies or if it has another purpose. But, again, we'll get to that later. Once the home invaders appear, the film is fairly straight forward. First you get to see it play out from Brad and Travis' perspective. After you get to the end of their half, we see Ronnie and TJ's half. And, I don't know, but this felt like a way to artificially extend the film's length. I don't see why it couldn't have been all edited together, they would have reach the same conclusion. It's not like seeing the events happen from the other side gives you a new revelation that you couldn't have seen otherwise. There's nothing that changes once you get to see their side. I guess it's not an artificial way to extend the film's length if I'm advocating for it to be presented in chronological order. Doing it out of order feels like the director's attempt of being clever or subversive. It's not. It kills the pacing of the movie, to be honest. Because, if you're gonna do it that way, then at least make re-living what we have already seen, from a different perspective, fresh or new. Offer us something that we didn't know before. Don't just do what everyone pretty much would have expected anyway. That's an obvious flaw in the movie. But, even with that, it's not like the division of both perspectives is actually bad. As a home invasion thriller, this is decent at best. Showing it This brings us to the ending which I will SPOIL mightily, so you may just as well stop reading right now if you wanna watch this movie. So the entire home invasion thing was carried out by a church group that Grace, the mother who's dying, belonged to. And the contents of the bag were actually medicine that would help her get better and rid her of her illness, whatever it may have been. This is where I have problems. Brad eventually gives in when he's outnumbered by members of the church, who have murdered his entire family and his girlfriend up to this point, and he hooks up the medicine and injects it into his mother. The problem is that the very SECOND the medicine is in her, Grace gets better. Immediately. She's fucking HEALED. She can't stand up or anything, or at least she hasn't tried to, but she was knocking on Death's door and Death was about to open it. But nope. One drop of this medicine cures her instantly. And that's about the most stupidest things I've ever seen in any movie. It's a twist for the sake of a twist and not because it actually makes sense within the context. It's a literal deus ex machina. For no reason whatsoever. And, yes, the contents of the bag itself is one of the big mysteries of the film. But, considering what it actually does, the fact that nobody in the family even mentions what it does is preposterous. Nobody says absolutely anything about the contents of the bag. They just allude to it without mentioning what it is and what it does. Just so they could do the big 'twist' at the end. It's fucking ridiculous and idiotic. And then there's the whole hypocrisy of the church group murdering six (or seven, I don't know and I don't care) people in exchange for ONE person who didn't have much fuel left anyway, even if she's cured of her illness. Granted, this family, or at least some of them, were behaving like vultures. But I wonder how these people justify the actions they have taken. And the motivations are never quite clear. They just want to save Grace, just...because? And I guess you could say that their intentions were noble, they just went about in a completely reprehensible manner, and that should be enough, right? Well no, films like these need well-constructed characters with clearly defined motivations. The invaders in this movie don't have that, so it makes it difficult to understand their actions. So, now that I think about it, this movie really did fall apart in its last act. The twist wasn't only stupid, but it was also a twist for the sake of having one. Those are always the worst kind of twists. There's a deus ex machina involved and the 'villains' have shitty motivations, as in they actually have none. Everything prior to that is your standard home invasion thriller, nothing you haven't seen before. But the ending really did kill it for me. Can't give it a recommendation it because of that.
Jesse Ortega
Super Reviewer
Mercy Quotes
There are no approved quotes yet for this movie.