Merlin's Apprentice
(2006)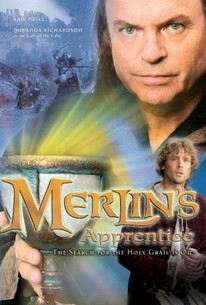 AUDIENCE SCORE
Critic Consensus: No consensus yet.
Merlin's Apprentice Photos
Movie Info
Directed, acted, and produced in the same mold -- and on the same level -- as its many other family friendly, critically-acclaimed television specials, Hallmark Entertainment presents Merlin's Apprentice: Search for the Holy Grail. Starring screen legend Sam Neill (Dead Calm, A Cry in the Dark) in the title role and one of Britain's most accomplished thespians, Miranda Richardson (Damage) as The Lady of the Lake, the miniseries opens with the great wizard returning to Camelot, only to find the entire mythical community in ruins from the theft of its most revered Holy Grail. Accompanied by a rambunctious young pickpocket named Jack (John Henry Reardon), Merlin undertakes a quest to retrieve the Grail and restore Camelot to its original glory. Merlin's Apprentice: Search for the Holy Grail co-stars Tegan Moss as Yvonne, Christopher Jacot as Graham, Meghan Ory as Brianna, and Woody Jeffreys as Arthur. Veteran Hong Kong Kung-fu filmmaker and John Woo-apprentice David Wu directs.
Critic Reviews for Merlin's Apprentice
There are no critic reviews yet for Merlin's Apprentice. Keep checking Rotten Tomatoes for updates!
Audience Reviews for Merlin's Apprentice
½
Merlin(1998) was much better, but still this was good
Andreia Cordeiro
Super Reviewer
Interesting twists and turns.
Nikki Meroney
Super Reviewer
Though I think nothing will ever outdo the first sequel of Halmark Channels Merlin (1998), Merlins Apprentice does an ok job of keeping the "die hard fanatics" of the Merlin fastened on their seats. The new characters found in this film does take a lot of getting used to as the casting seems to be "somewhat modernized" (I cant explain this very well), and the old characters they have retained (Merlin and the Lady of the Lake), has aged greatly, showing that the Old Camelot is no more, and people are still struggling to bring back the old glorious days of what it was, when King Arthur, along with his knights, and the Holy Grail was still in its midst. Miranda Richardson - returns as an older version of the lady of the lake, but with a diffrerent attitude than of the 1998 character we know of. Its like she merged certain qualities of Mab and the Lady of the lake in this one. Sam Neill - (who looks very much like my real dad) Always performs his role as Merlin flawlessly, although he plays his characters role as an aged old sorcerer that pops in and out of the movie from time to time, the story, as the title suggests, really isnt soley about Merlin now isnt it? A 2 part Movie, where the 1st part will leave you screaming WHAT?! NOOO! Aww sh***ttt!! and the 2nd part will all be about the transformation of the new characters stepping up and taking the lead, to pursue building a NEW Camelot. I like most parts of this movie as it makes me think about a lot of things, if youre a man with a vision, and youve established making that vision into a reality, are you free to go away once youve made your "dream" into a reality? And does everything youve created in this world vanish as soon as you leave? I feel somewhat guilty for rating this only with 3 stars, although I enjoyed the watch and the thoughts that popped in my head while watching it, I feel like the producers and director of this film really did have a challenge with breaking thru that level of entertainment the first Merlin gave, but they really did do good with this, its just that, perhaps.. it just lacked a certain flair, to the point that it didnt leave much impact to its viewers. Dont get me wrong though, its still a pretty good movie.
Merlin's Apprentice Quotes
There are no approved quotes yet for this movie.