Mermaids
(1990)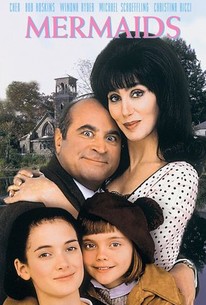 Movie Info
There's no point in recounting the many production problems and personal hostilities which plagued the filming of Mermaids: the end result is all that matters. Set in the 1960s, the film details the relationship between an unorthodox, unmarried vagabond mother (Cher), and her two daughters. The 15-year-old (Winona Ryder), continually embarrassed by her flamboyant mother, wants to be the world's greatest Catholic; the nine-year-old (Christina Ricci) would be satisfied with becoming the world's champion swimmer. Moving with her family to New England, the older daughter falls in love from afar with the groundskeeper (Michael Schoeffling) from a nearby convent, while Mom takes up with a lonely salesman (Bob Hoskins). Mermaids is perceptively adapted from the warmly comic novel by Patty Dann. ~ Hal Erickson, Rovi
Critic Reviews for Mermaids
Audience Reviews for Mermaids
½
I enjoyed it. The energy drops somewhere around the middle, but picks up quickly. The story is well told and unique. Though Cher is spectacular in the main role, it really is Winona Ryder who makes the film worth watching. She is, as usual, captivating, and makes an excellent and amiable narrator. She is perfectly cast and steals the show.
Matthew Samuel Mirliani
Super Reviewer
Cute movie. I like Christina and Winona. Cher gets on my nerves a bit, but I think her character is meant to be annoying. Coming of age tale set in the 60's.
Nicki Marie
Super Reviewer
Mermaids is the story of a family of three ladies, a mother and her two daughters. Winona Ryder plays the eldest daughter who actually looks down her mother. Ryder dreams of becoming a nun so that she can live a pure and honest life. Cher is the mother, who constantly moves her family around whenever she fails at a relationship. Ryder is tested by a young man that she starts to have feelings for while Cher has difficulty adjusting to a serious relationship with Bob Hoskins. It's a fine film on all accounts as both a comedy and a romantic drama. The rift between Cher and Ryder is an easy one to understand and they both play it brilliantly. You always get the feeling that they are tired of one another, but the love is always present. Hoskins is a fantastic and surprising romantic lead. He gives off a strong dominant force, but also comes across as fragile. It's his strength that gradually repairs this family. Christina Ricci stars as the youngest daughter and it's no surprise she became a star. She manages to do young and cute without being annoying. The soundtrack helps to capture the time period very well. The pacing is often off and it feels like an edited down novel, but when it's hitting those high notes in terms of comedy or drama it is a great watch.
Luke Baldock
Super Reviewer
Mermaids Quotes
| | |
| --- | --- |
| Charlotte Flax: | Mrs. Flax only served h'or deurves for meals. She said that anything else was too much of a commitment. |
| | |
| --- | --- |
| Mrs. Flax: | What are you trying to be? The town tramp? |
| Charlotte Flax: | No, Mom. The town already has one. |
| | |
| --- | --- |
| Charlotte Flax: | Please God, don't let me fall in love and want to do disgusting things... |
| Charlotte Flax: | Please God, don't let me fall in love and want to do disgusting things. |