The Merry Gentleman
(2009)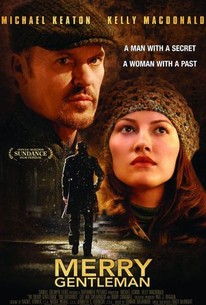 TOMATOMETER
AUDIENCE SCORE
Critic Consensus: Michael Keaton's directorial debut, The Merry Gentleman, is a slow character study aided greatly by the performances of Keaton and Kelly MacDonald.
The Merry Gentleman Photos
Movie Info
Michael Keaton makes his directorial debut in this low-key story of two unlikely kindred spirits. Kate Frazier (Kelly Macdonald) is a sweet woman who has left behind an abusive husband to start her life over in Chicago. Kate lands a job as a receptionist, but one afternoon after leaving work for the day she sees a man with a rifle on the ledge of a nearby building. The man is about to jump, and Kate screams; the noise startles the man, and he falls backward to safety. As it happens, the man with the gun was Frank Logan (Michael Keaton), a hired killer who has a lingering illness and has fallen into a suicidal depression. Kate is questioned by the police about Frank, and police detective Dave Murcheson (Tom Bastounes) quickly becomes infatuated with her after their brief conversation. But Frank seeks out Kate, and they discover they have more in common than they might imagine as two lonely people dealing with a troublesome past. The Merry Gentleman received its world premiere at the 2008 Sundance Film Festival.
News & Interviews for The Merry Gentleman
Critic Reviews for The Merry Gentleman
Audience Reviews for The Merry Gentleman
½
Frank Logan: You find presents under a tree. I found a girl.  Kate Frazier: You must have been a very good boy.  "A man with a secret. A woman with a past." Despite its flaws, I really liked The Merry Gentleman because of its uniqueness and because it was one of the oddest emotional movies I have seen in awhile. It was oddly emotional because the characters don't show too much emotion, but Michael Keaton's direction dictates the emotional feeling of the film. Everything about the movie had a feeling of dreariness.there really was no cheerfulness to be had and I think that's what made the relationship between Kate and Frank all the more emotional. The movie revolves around two people. A sweet young woman Kate, and a killer, Frank. Kate sees Frank on top of a roof after killing someone but doesn't see his face. She is questioned by police about the incident, but she can't really give the anything because he was to far away. Then the two actually meet and begin to become friends. There's no real plot to begin with, but the movie does do some great things with the characters. I love the way Keaton played with the viewer about Kate's past and her black eye. She would always give a different answer, but everyone really knows what it is. I liked Keaton as an actor and as a director with this film, but what really sold me on it was Kelly MacDonald. I loved her performance. She was so subtle with all the large emotions that were going on in her characters life and made the movie all the more effective. The relationship between her character and Keaton's was oddly believable. Now that I really think about the movie, everything was odd. It isn't like a normal crime drama, because it isn't really about the crime. It is easy to see why this movie is hard to like. It is slow, it is bleak the actors show no emotions, and the ending doesn't really feel like an ending. But Keaton didn't set out to make a movie that would be easy to like. He did a great job with a movie that is character driven, with two less than exciting characters. I don't know how he did it, but he did.
Melvin White
Super Reviewer
½
In "The Merry Gentleman," Kate(Kelly MacDonald) has a black eye and has just started work as a receptionist. During the holidays, she spots Frank(Michael Keaton, who also directed) on a ledge. Thinking he is about to jump, she yells out, which almost does the job but he falls backward to safety, instead of forwards. What she does not know is that he is a tailor with a side job as a hit man and had just killed someone when she saw him. When they finally meet, it is his job to save her when she is trapped underneath a Christmas tree. "The Merry Gentleman" is a frustrating movie that even Kelly MacDonald's immense charm and a superb turn from Bobby Cannavale cannot save, as the movie puts all of its cards on the table from the start. Whereas Michael Keaton is a very skilled actor, his talents do not apparently extend to directing, as the movie suffers from more than its share of tonal problems, as it is nowhere near as dark and brooding as it should be considering the subject matter. However, the holiday setting does set up some interesting thoughts on the possibility of redemption but does not consider why some people and not others.
Cast: Michael Keaton, Kelly Macdonald, Tom Bastounes, Bobby Cannavale, Darlene Hunt, Guy Van Swearingen, William Dick, Jay Disney, Randall Jones, Debbi Burns Director: Michael Keaton Summary: Kelly Macdonald stars as a young wife who escapes an abusive marriage to begin a new life on her own. But when she finds herself a witness to a murder, she develops an unusual bond with a glum hit man. Beloved actor Michael Keaton makes his directorial debut with this quirky drama from a script by Ron Lazzeretti. My Thoughts: "It was a quiet slow paced film. Not much action as I had thought there might be considering the film is about a hit man. But I still enjoyed it. Didn't really have much of any character development, but you kinda got a feel of their background by some of the remarks they make. It was an odd romantic film. Don't know if I liked the ending or not.. But it was worth the rental, and I think Michael Keaton did a great job on his first time directing a film. He was good in the movie as well. It's worth a watch."
♥˩ƳИИ ƜѲѲƉƧ♥
Super Reviewer
The Merry Gentleman Quotes
There are no approved quotes yet for this movie.