Mesrine: Killer Instinct (Mesrine: L'instinct de mort)
(2010)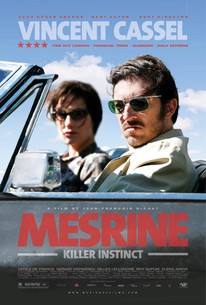 TOMATOMETER
AUDIENCE SCORE
Critic Consensus: It's undeniably uneven, but Vincent Cassel's electrifying performance makes Mesrine: Killer Instinct a gangster biopic worth seeking out.
Mesrine: Killer Instinct (Mesrine: L'instinct de mort) Photos
Movie Info
This tough and gritty French-language crime drama represents the premier installment in a two-part series of features on the life and doings of notorious Gallic hood Jacques Mesrine (1936-1979). Mesrine is played, in both installments, by actor Vincent Cassel, who reportedly underwent massive weight gain and weight loss to convincingly portray the volatile Mesrine at various periods of his life. Director Jean-François Richet begins in 1979, with Mesrine's uncommonly violent death, whereby he and a beautiful young woman are suddenly (and fatally) ambushed by Parisian police not far from Mesrine's place of birth. Richet then flashes back to the Franco-Algerian War of the late '50s and a brutal interrogation undergone by Mesrine. Following a military discharge, Mesrine returns to his parents' suburb of Clichy, where his dad has arranged a pathetic job for him in a lace-making factory. Never one to take humiliation lying down, Jacques perceives burglary, larceny, and racketeering as much-superior options and decides to pursue a life of crime via a "business partnership" with childhood buddy Paul (Gilles Lellouche), who works for mobster Guido (Gérard Depardieu). As the years pass, Jacques works his way up through the ranks of the underworld; via Paul, he also meets and falls hard for two women: Pigalle streetwalker Sarah (Florence Thomassin), and Sofia (Elena Anaya), a beautiful Spanish woman with whom he cohabitates after doing time in a French prison. Following a brief and unsuccessful attempt to "go straight," Jacques reconnects with Guido, then finds it necessary to escape from France to Canada with his new mistress, Jeanne (Cécile De France). Unfortunately, another prison sentence is waiting for him there, replete with brutal solitary confinement, but the possibility of a daring escape beckons. The second half of the Mesrine saga, entitled Mesrine: L'Énnemi Public No. 1 for French release, followed immediately after and picks up where this installment wraps.
News & Interviews for Mesrine: Killer Instinct (Mesrine: L'instinct de mort)
Critic Reviews for Mesrine: Killer Instinct (Mesrine: L'instinct de mort)
Audience Reviews for Mesrine: Killer Instinct (Mesrine: L'instinct de mort)
½
Killer Instinct is the story of notorious criminal Jacques Mesrine who progressed from petty crime on the streets of Paris to become Canada's public enemy number one. Kind of like a Gallic Goodfellas, Mesrine is based on a real gangster and similarly spans decades of his life. Vincent Cassel puts in a quality performance as the charismatic psychopath who became a media sensation in the early 1970s and although he is hardly the most likeable protagonist, his outlandish acts are consistently both entertaining to watch and quite incredible to believe. There are some quality set pieces, the scene in which he and his partner single-handedly attack a maximum security prison in which they were both tortured is a particular highlight. It is a little episodic and it lacks the depth of characterisation that draws you fully into this kind of life story, but it is always exciting to watch and I am very much looking forward to Part Two.
The first of the two part "Mesrine" films, this is much more of an introduction into the life of the titular character than it is a true crime biopic. It shows the life leading up to his infamous prison break and subsequent crime spree. Real life criminal Jacques Mesrine led a long and interesting life, starting in the French Army, stationed in Algiers. With the army training him in torture and murder, Mesrine rose through the ranks of the criminal elite early, embracing friends and colleagues in order to become a petty thief and armed robber. Throughout the film we see Mesrine struggle with trying to keep his family together, and when he becomes unemployed, we see the destructive rage and violence he can enact on his loved ones. There's very little empathy or understanding in Vincent Cassel's performance as the troubled crook, hell-bent on sustaining himself through crime. Not only that but he is a survivor of a corrupt prison, a runaway, a thief, and a madman. Throughout the film we see the steady incline from low level criminal to the raving hellion he comes to be. Great performances from the women of the film as well, including Anaya as his beaten down wife, and De France as his companion Jeanne, following him on a spree through the United States after a foiled kidnapping in Canada. The plot moves quite fast, so some life events feel hurried and not completely covered, which is to make room for the impending sequel, "Public Enemy # 1." Though I don't think this should have been a two part film, it's very interesting, and all performances are crisp, never even tempered, and awash in gritty violence. This man is beyond interesting, both a rogue maniac and a survivor in most respects, making this a great watch.
Spencer S.
Super Reviewer
½
Mesrine: Killer Instinct is one of the best crime dramas that I've seen in quite some time. The film is based on the real life of Jacques Mesrine, a notorious French bank robber and murderer who became France's Public Enemy Number One. the film which stars Vincent Cassel in the lead role is phenomenal and looks like the real guy. The film tells about his rise in crime, and how he became one of the most wanted criminals in France's history. Gerard Depardieu also stars and both men are terrific in the film. Mesrine is an accomplished Crime film that is only rivaled by Martin Scorsese's finest genre films. The film is riveting in its execution, and the performances are top notch. With this first part of Mesrine's story, we get to see why he was revered by the public, but really he was a cold blooded criminal that was a menace to society. Director Jean-Francois Richet crafts a stunning gangster film that will delight genre fans. The film is raw, gritty and ugly. Mesrine was not a figure to admire, and director Richet captures that aspect perfectly. Brilliantly told, and with a strong performance in the lead role, Mesrine: Killer Instinct is a taught drama that never glamorizes the exploits of the infamous Jacques Mesrine. If you enjoy the genre, give this film a shot, you will surely enjoy it. I found the film to be very entertaining and well executed. Crime films are hard to do, mostly because the ideas tend to be overly clichéd and slightly predictable. However here, since this film is based on real events, it makes for a highly engaging film going experience that is unflinching because the story of Jacques Mesrine is quite interesting, and this film, along with its second half strips away the Robin Hood quality that the Press of the era gave him.
Mesrine: Killer Instinct (Mesrine: L'instinct de mort) Quotes
There are no approved quotes yet for this movie.