Mesrine: Public Enemy #1 (Mesrine: L'ennemi public no. 1)
(2010)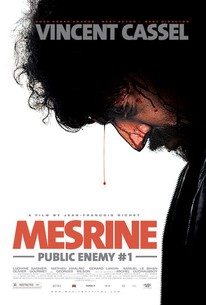 Mesrine: Public Enemy #1 (Mesrine: L'ennemi public no. 1) Photos
Movie Info
Now back in France, Mesrine is finally in police custody and facing justice for his crimes. After escaping a courtroom and kidnapping the judge at gunpoint, Mesrine is declared Public Enemy Number 1 and is eventually condemned to a maximum-security prison where he writes his memoirs, establishing himself as a household name and the anti-hero across France. Mesrine stages another daring escape and disappears into the lawless underworld, taunting the police and reinventing himself as a celebrity criminal through his savvy manipulation of the media. After such a monumental rise, comes the inevitable fall as the police close in, bringing the life of Jacques Mesrine to full bloody circle. -- (C) Music Box Films
Critic Reviews for Mesrine: Public Enemy #1 (Mesrine: L'ennemi public no. 1)
Audience Reviews for Mesrine: Public Enemy #1 (Mesrine: L'ennemi public no. 1)
½
The second part of the life story of notorious French criminal Jacques Mesrine is very much a case of more of the same; more daring bank heists, more shoot outs on the streets of Paris and more prison break outs. It takes place over a shorter period of time than the previous film leaving more room to concentrate on the man and his motivations, particularly during the scenes in which he verbally spars with an ageing millionaire and kidnap victim and his brutal attempted murder of a right wing journalist. These scenes show all his bluster about being a "revolutionary" was really a smoke screen to cover his ever increasing ego and obsession with his own public image. The representation of his death is also very well done despite the inevitable conclusion, echoing the opening scenes from the first part except from the point of view of the pursuing police. It's a very tense piece of film making, very much from the Infernal Affairs school. Again it made not be the most in depth examination of the man's life but it's always entertaining and made all the more interesting by the fact that it's all based upon actual events.
½
Second half to Mesrine: Killer Instinct, Mesine: Public Enemy #1 focuses on Jacques Mesrine on the run, and being pursued by the French authorities. A brilliant follow up to Killer Instinct, Vincent Cassel like I stated in my review for the first half is brilliant, and really he makes the part of Jacques Mesrine his own. No other actor could play that part any better. The film is brilliant in showing the criminal repercussions of Mesrine's lifestyle. Jacques Mesrine throughout the 1970's was the most dangerous criminal in France's history. He had a bone chilling reputation, and a knack to sell himself to the public eye to make him more popular towards France's population. This half concludes with the manhunt of Mesrine, and his eventual demise at the hands of French authorities. This is a fine film, a stunning crime film that redefines the genre. Public Enemy #1 is a thrilling conclusion to Killer Instinct. Since this is the second half, some viewers may find that this part is more thrilling and it is, but as a whole, and I really look at both parts as one film, as it should, Jean-Francois Richet has made a highly memorable picture, one of the finest gangster pictures that I've seen in quite some time. With a strong cast, Richet has made a film that will surely be destined to be a classic genre film. This is a must see film for crime film fans and is a near perfect film that is highly engaging from beginning to end. Mesrine is a delivers a raw, intense portrait of what it's really like to be in a life of crime. Richet's film shows us the ugly side of crime. Brilliant in showing Jacques Mesrine for whom he really was. This half focuses yet on other aspects of Mesrine's criminal exploits and viewers of the first half will likely be pleased with this second part. Definitely one of the finest crime films in recent memory, and worth seeing.
Much like Che, the second portion of the Mesrine saga, while good, isn't as strong or as focused as the first portion. Still though, it's a lot of fun, and very watchable. The first is fun too, but the fun seems more evident here, mostly with the scenes of shopping, and of course the many scenes of armed robbery, kidnapping, and escapes. Heck, since those last few things are the bulk of the story over deth, character, and substance, they pretty much have to be fun, otherwise what's the point? There's no drastic stylistic change this time around, though there's a more prevalent sense of doom. There are a few sequences where thigns got so tense and suspenseful, I almost couldn't handle it. How things end was not a surprise, but still, the final like 15 minutes are absolutely gripping. Cassel once again shines as Mesrine, and he looks great with all his various hair styles, wigs, and varieties of facial hair. He was pretty well born to play this part. The cast ae mostly new this time around, and they too are all pretty good, especially Mathieu Amalric. The music remains good, as does the camera work, and, as I state,d the only real downer is that this entry seems a little less focused and really seems to make the statements of "What's the point?", or "Why should I care?" a little more obvious. Still though, this is terrifically entertaining stuff that is really well made and makes me happy that there are still directors out there interested in making cinematically excellent action and crime films.
Chris Weber
Super Reviewer
Mesrine: Public Enemy #1 (Mesrine: L'ennemi public no. 1) Quotes