Messengers 2: The Scarecrow
(2009)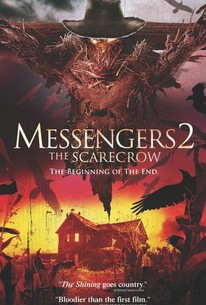 AUDIENCE SCORE
Critic Consensus: No consensus yet.
Messengers 2: The Scarecrow Photos
Movie Info
In this prequel to the Pang Brothers' terrifying English-language debut, the eerie backstory of farmer John Rollins plays out in all its bone-chilling glory. Doing what he believes must be done in order to save his family and livelihood, John places an odd scarecrow among his crops and promptly reaps the benefits. The thing is, his luck probably won't last for long. Produced by the celebrated Ghosthouse Pictures (30 Days of Night, Drag Me To Hell) and penned by Todd Farmer (the screenwriter behind the 2009 remake of My Bloody Valentine), this is one hayride best not taken alone.
Critic Reviews for Messengers 2: The Scarecrow
All Critics (2) | Fresh (0) | Rotten (2) | DVD (2)
...suffers from many of the problems that plagued its predecessor...
For better and for worse, Messengers 2: The Scarecrow is - dare I say it - corny.
July 15, 2009 | Rating: 2.5/5
Audience Reviews for Messengers 2: The Scarecrow
To provide a bit of context, this movie came out the same year the original Paranormal Activity came out. Well, to be fair, the first PA was filmed in 2007 (shown at Screamfest that same year) and widely released in 2009. Regardless, they were both released the same year. So why is it that, to me, this movie feels considerably older than the original Paranormal Activity. I guess part of it is that there was no continuation and this "franchise" went the way of the dodo and Paranormal Activity, to its detriment, went on for the yearly sequel route that killed off Saw and, inevitably, also killed off PA as a viable franchise. Regardless, the reason I bring this up is just to point out how old and outdated this movie feels in comparison to that franchise. And just in general, this movie feels antiquated, like from another era entirely. It may as well have come out in the 80s, with how outdated it feels. The reason I say this is that horror was in an interesting place at this point. Because this, to me, is just prior to the independent horror renaissance that we currently find ourselves in. I first started to notice it when I saw The Signal, which came out in 2007, but, to me, this new approach to horror, didn't really begin to truly manifest itself until Ti West's The Innkeepers which came out in 2011. Adam Wingard and Simon Barrett (director and writer respectively) had come out with A Horrible Way To Die the year prior. Honestly, I never saw that movie, even though it was on Netflix some years ago. Anyway, I really enjoyed The Innkeepers and, again, that was the movie that made me realize that there's a new way to tell quality horror stories. I wasn't aware of it at the time but, while there's still gonna be a place for these types of movies (Joe Lynch and Ti West got their starts on Wrong Turn 2 and Cabin Fever 2: Spring Fever, respectively), these movies will just lag behind the current crop of independent horror films. That's neither here nor there, I suppose, but how about we move on, shall we? This movie was released a year before Norman Reedus went on to superstardom with his extremely successful cable television series, The Walking Dead. I'm not here to talk about how I find TWD to be incredibly a boring, loquacious that lacks any real depth of characters. I'm here to talk about Norman Reedus and how he became everyone's favorite redneck. I never got he whole Darryl obsession, which has subsided I bit. He was a sensitive redneck, there was literally nothing else to the character. Here's the thing about Norman Reedus, he seems like a really cool guy that I'd probably love to hang out with but, in all seriousness, the guy isn't really that good of an actor. I'm sorry to break this to all his fans, but he just isn't. He has only two expressions on his face: angry and pissed off. And, in reality, those are the two same emotions, except pissed off (I feel) is a little more forceful. That's why the character couldn't really go anywhere interesting, because Norman can't emote to save his life. He might do well in the role of Darryl, which was specifically created for him, because they don't have him do anything that's too out of his range. The reason I say this in reference to this movie is, because, quite honestly, Norman Reedus wasn't very good in this movie. Hell, his upcoming role in Hideo Kojima's upcoming videogame Death Stranding might be his most complex role to date. That's not criticizing videogames as an art form, which they are, it's criticizing the typecasting going on with Reedus. I suppose it's well-deserved because, as far as what I've seen from him, he can only play one role. And this movie has him play the hardworking farmer and family man. Much in contrast to what people expect from him, he's far more timid in this movie. At least at first. I'll be straightforward with you, I did not think that this movie was very good. Like, at all. I think the fact of the matter is that this movie was made to, hopefully, cash in on the success the original Messengers had. It made $55 million on a $16 million budget, which isn't great considering some other returns but it's still very good all things considered. But the fact that the original movie was so negatively received forced them to scale back. You don't need to allocate many funds for straight-to-DVD feature since, hopefully, based on the name, you make back what you put into it relatively easy. And I feel that that's what this movie was made for. This was made for to squeeze as much cash as they could out of this name, before they threw it to the wayside and left it for dead. You can just feel it from the amount of effort that was really put into the movie. I'm not saying that people didn't work hard behind the scenes to make the best movie they could, but I feel like they were not there to make a good movie. They were there because the studio wanted a movie that was shot quickly, on a low-budget that they could release on DVD and, hopefully, make some money out of. That money, obviously, isn't gonna amount to much, but some money is better than no money. Honestly, I don't remember much from the original, but I remember not enjoying it so, at the time, I probably wouldn't have cared about this either way. Now that there's been over a decade in between the original movie's release and when I saw this, its prequel, yesterday, enough time has passed to where I didn't really mind watching this. This is prior to starting the movie, I mean. Like I said, the movie is no good. Norman Reedus is a struggling farmer, who's facing foreclosure on his land as a result of his corn fields dying out. This happens due to the irrigation system and crows that eat the corn before they get to harvest it. Rollins, his character, finds this scarecrow in the barn that his 12-year-old son, but the movie pretends he's six years old by giving him a stuffed toy and having him say daddy a lot, is scared of and asks him to throw away. Rollins throws it away, but at his new neighbor's behest, he puts it up anyway. You can see where the movie is going. Once he puts the scarecrow up, the scarecrows start dying and people that threaten the land (like the financial adviser that tells Rollins to sell before the bank takes it all) start dying as well. One of John's friends, who's rich and apparently had a thing for his wife back in school, comes over and he hits on Rollins' wife, he ends up dying as well. Which, even by this film's established canon, doesn't make sense. Rollins is told that the scarecrow protects the land, not the man. So I understand the scarecrow killing the financial adviser. Tommy's death, the guy who was hitting on Mary (Rollins' wife), however, doesn't make sense. I mean, they do go the route that Rollins himself wanted these things to happen (he planted the seeds) and that's why the scarecrow made them happen, this would explain Tommy's death. But, at the same time, the movie is completely contradicting himself here, because the little girl that's been haunting the corn fields tells John that the scarecrow protects the land and not the man, but he's also told by Weatherby that he planted the seeds and that's why these people are dying. So which fucking is it? Because, as I see it, it can't be both. The scarecrow can't be its own autonomous being that protects the land while also fulfilling all of John's wishes. So, that right there, is a contradiction that the film fails to deal with in any significant way. Both things can happen, just because the movie says they're happening and you're not supposed to question things. I realize this might be nitpick-y, but the film constantly contradicts itself. And it's not even meant to be a purposely confusing or surreal movie, where you don't know who or what you can trust. Regardless, even if the movie didn't contradict itself constantly, I would not have liked this. It's just not a good horror movie, the scares are negligible. Meaningless jump scare after jump scare. The problem with the movie is that, I think, it focuses more on the marital strife between Rollins and Mary and, honestly, I couldn't have cared less. Heather Stephens, who plays Mary, does about a good a job as she can, but Norman Reedus is, let's just say, lacking. So there's not a good contrast there. Anyway, Mary starts noticing changes in Rollins, like he doesn't go to church anymore (which isn't even that bad if you really think about it), he curses (which is also not true) and he's started drinking again, which is true. While Rollins' changes are definitely noticeable, I don't think they're as bad as Mary wants to make them out to be. It's just that they're trying to force in this marital strife bullshit by hook or by crook. And the fact that the movie focuses so much on that is a mistake. I don't know what you focus on if not that, since Rollins' family is the only thing that matters to him, but the family drama was really bad here. I mentioned Rollins' son. Well, I was REALLY fixing to hate this kid, but to the movie's credit, they kept his scenes to the barest of bare minimums. The reason I hated this is because the actor who played Rollins' son, Mike, was TWELVE years old at the time of shooting. By the time the movie was released in 2009, he was THIRTEEN. But, you see, Mike was meant to be someone who was meant to be considerably younger than Laurence Belcher's actual age. So almost every scene he had he made with his stuffed toy in hand and, again, he referred to Rollins as his daddy in a high-pitched voice. I'm sorry, and this may sound sexist, but it's just really fucking weird for a boy after a certain age (like 12 or 13) to call his father daddy. I think it's fine if girls do it, but it's just really weird if a boy does it. This lends credence to my theory that Mike was meant to be like half of what Laurence Belcher's actual age was at the time of filming. Even though Mike wasn't a big part of the movie. Well, in the lead up to the climax at least, I hated every scene he was in for that reason. It's like act your age, you little asshole. Not that he was to blame, of course, but it annoyed the fuck out of me. Oh and did you also know that Rollins and Mary had a daughter, Lindsay. The fact of the matter is that Lindsay and Mike are, for the most part, non-factors in the film. They rarely appear and, outside of Mike in the climax, add very little to the movie. So these two having kids was, again, another way to force them into strife. Because what's more stressful than being a married couple struggling to stay afloat economically? When that same married couple has kids to look after. But, again, these kids are so inconsequential and unimportant that I don't even know why they bothered. Just take them out and find another way out of it. The climax is also terrible and unsatisfying. The family dispatches of the scarecrow, first, by Mike running it over with a tractor. The scarecrow, naturally, comes back to life and attacks Rollins. Mary sticks a scythe in the scarecrow's eye and the rest of the family removes the hay from its...body and that's it. Seriously, that's how they get rid of the fucking scarecrow. REMOVING THE FUCKING HAY FROM ITS BODY. I felt I had to all caps that just to highlight the sheer stupidity of it all. So, yea, you could say that I thought this was a really bad movie. Even worse reviewing it than I felt it was when I finished watching it. That's why the score has been downgraded from 1.5 to one full star. This is just a very bad movie all around. Norman Reedus gives a bad performance, the horror is terrible and the family drama is even worse. I just can't put it any simpler than that. These are ninety minutes of my life I can never get back.
Jesse Ortega
Super Reviewer
The Messengers may not have been the best horror film, but it definitely wasn't the worst. I frankly enjoyed the first film, and thought it was a fine ghost story. But this direct to DVD Prequel is awful.The film is poorly conceived with a bad plot and bad acting. Like with every other straight to DVD title, The Messengers 2 looks cheaply made. I felt that the film lacked anything that would make a good horror film. The absence of chilling horror makes this an awful film. The Messengers was a good film, but this prequel is simply poorly made. The film has no real connection to The Messengers aside from the films score. I felt bored watching this and it took me everything to finish watching it. I was really hoping to like it, unfortunately, this straight to DVD title continues the tradition of bad straight to DVD titles If you're looking to watch the film, be warned.that it has nothing to do with The Messengers. This prequel doesn't explain anything, and decides to go somewhere that has nothing to do with The Messengers. In other words this prequel doesn't make sense, and is only related to The Messengers in name alone. The film is poorly directed, with sloppy writing and acting. If you're looking for a good horror flick, you won't find it here. Messengers 2: The Scarecrow is an awful attempt at cashing on the success of the original. Though The Messengers wasn't a great horror flick, it was still good fgor what it was. But this prequel is simply awful. Avoid it.
This was worst. I can't really say that the first one was better. The first one was A LOT better than this one.
Dead Angel
Super Reviewer
Messengers 2: The Scarecrow Quotes
There are no approved quotes yet for this movie.