Metallica: Some Kind of Monster
(2004)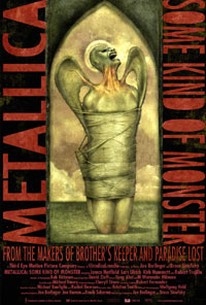 Metallica: Some Kind of Monster Photos
Movie Info
A music documentary about the trials and tribulations of the heavy metal group Metallica as they cut their first album in six years. The members of one of the most successful heavy-metal band in history submit to two years of intensive group therapy to work through conflicts in their 20-year working relationship.
Critic Reviews for Metallica: Some Kind of Monster
Audience Reviews for Metallica: Some Kind of Monster
½
A knitty-gritty documentary on the greatest heavy metal band in history. The in-depth prospective and real-life struggle of the aging forefathers of thrash is a unique vision that makes every emotion as loud and powerful as the notes and chords strummed or drumbeat. 4.5/5
Eugene Bernabe
Super Reviewer
Some Kind of Monster is a wonderful look into a band that is gradually falling apart. To be quite honest though, it was nowhere near as bad as I had been led to believe. Sure there are some spats between band mates, but it never got to violent excess. In fact, all it did show was their passion as each one believed in what was right for the music. At one point Lars even agrees, when discussing the naming of the album, as he didn't see Frantic as having any negative connotations. This shows a band where a member has just left and another is battling addiction. Of course there are going to be some arguments. I felt that above all this showed a band of 20 years continuing to mature. There are some very emotional moments, such as the scene with Dave Mustaine, as he talks about feeling betrayed and number 2 for all these years. The chemistry between Hetfield and Ulrich is that of a married couple prone to arguing, but you can still feel the love. As for Hammett, he is their awkward child stuck in the middle hoping it's all gonna be alright. A great film about music, business, passion, and ego.
Luke Baldock
Super Reviewer
When I was in my early teens, I was a diehard Metallica fan. In fact their 1984 album 'Ride The Lightning" is responsible for my love of Heavy Metal music. Unfortunately came many events such as the infamous Napster lawsuit and the like. For years we Metallica fans wanted a new record, and we got "St Anger" a raw, gritty stripped album of Metallica's famous sound, this film shows how that album came to be. The film takes a rather unorthodox look at how a Metal band is trying to pull through by having a group therapist session so they can discuss their issues as a band. This is a stunning portrait of one of Heavy Metal's most beloved bands as they hit rock bottom. For us, the fans, it's interesting, but it's also painful to watch. Seeing Lars Ulrich whine like a baby constantly was a joke and all. I thought the documentary was good, but it was just two guys not Seeing Eye to eye for two hours. I mean you'd never see this type of crap from Iron Maiden, Judas Priest and other Metal Icons. It's sad to see one of Metal's toughest bands go into this downward spiral, but at the same it's cool. However, I would've loved to see a documentary on the band sort of like Sam Dunn's Rush: Beyond the Lighted Stage. Maybe one day Metallica fans will get that. Until then, we have a brutally honest documentary that has its great moments, but it's definitely not an iconic documentary.
Metallica: Some Kind of Monster Quotes
There are no approved quotes yet for this movie.