The Meteor Man
(1993)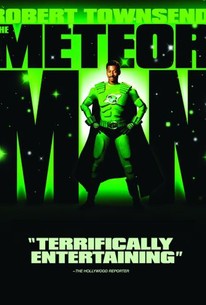 Movie Info
A schoolteacher is struck by a meteor and develops superpowers in this humorous adventure. The newly created "Meteor Man" works to free his neighborhood from crime but runs into trouble when he finds his powers fading just as he comes into conflict with a powerful drug syndicate.
Critic Reviews for The Meteor Man
Audience Reviews for The Meteor Man
I had fond memories for this film but watching this again it failed to hold the campiness it was attempting. The film is just one of those 90s concepts that fails to deliver. Townsend proves to be the incorrect choice for this genre film, the comedy never delivers and becomes more melodramatic as it closes. The entire ending is a miss, that final showdown is very over the top, with only the modelling scene being a highlight. This should have been better, the cast of up and coming stars and an Oscar worthy director. The film attempts a lot but ultimately fails on all fronts. 16/09/2018.
Brendan O'Connor
Super Reviewer
½
The Meteor Man is a decent action comedy that is quite entertaining, but leaves plenty to be desired in the long run. The film has a good idea going for it, but it also falls short of what it could have been. For what it is, it's an entertaining affair, but it's a film that isn't worth multiple viewings. Although it's a film that has moments of exciting entertainment value, The Meteor Man is one of those movies that really had the potential being much better as well. Those expecting something great will be disappointed, as The Meteor Man satisfies only to a certain degree. For a low budget film, it works, and the result is decent, but it really should have been more. The blend of action and comedy makes this worth seeing if you have nothing else better to do, but as a superhero film, it just doesn't hold up, and it is a forgettable affair in the long run. This film should have been reworked, but is it an awful movie, it's not, but there are times where it feels a little too empty at the same in terms of good storytelling, and that's why the film simply doesn't stand out, and it doesn't warrant multiple viewings. For B movie fans, however who love these types of movies, there is enough to enjoy, but to others, there just isn't enough substance on-screen to really make a stunning, highly engaging and ultimately memorable film experience worth experiencing again and again. If you come across it, and you have nothing else better to watch, The Meteor Man is one of those films that you watch. At times there some entertaining moments, but others there seems to be a lacking structure, which brings the film down, and you realize that it just isn't as good as it could have been. This is a decent film that leaves a lot to be desired.
½
Robert Townsend make in The Meteor Man, maybe a entertaining motion picture, but his script, direction and acting made Meteor a rotten film.
Lucas Martins
Super Reviewer
The Meteor Man Quotes
There are no approved quotes yet for this movie.