Metropia
(2010)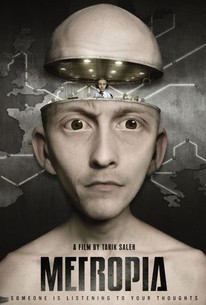 Movie Info
A man who hears voices in his head discovers he's not crazy, but something far worse is going on in this animated sci-fi drama from director Tarik Saleh. It's the year 2024, and the global oil supply ha finally bottomed out; poverty is widespread, and with automobiles no longer practical, a system of underground trains links most of the cities of Europe. Roger Olafsson (voice of Vincent Gallo) is a low-level office worker who spends his days toiling away in a telephone center and his night cooped up in a tiny flat. One day, Roger begins hearing a voice in his head; the voice tells Roger that it is his conscience, and that he should take a chance and approach Nina (voice of Juliette Lewis), a beautiful woman he's seen while riding the train. Roger decides to take the voice's advice, but it turns out that he's actually been hearing messages from Stefan (voice of Alexander Skarsgard), a functionary of the all-powerful Trexx Corporation, and he's not trying to start a romance by pairing Roger and Nina, but tie the unsuspecting telephone worker into a plot involving a gang of terrorists. Also featuring the voice talents of Udo Kier and Stellan Skarsgard, Metropia was screened as part of the "Critics' Week" program at the 2009 Venice International Film Festival.
Critic Reviews for Metropia
Audience Reviews for Metropia
½
The visuals are definitely stunning and the plot, though not inventive, presents an interesting idea of a dystopian future in which society lives under corporate surveillance and mind control, but still the result feels a tad too clinical (and soulless) for most viewers to enjoy it.
Carlos Magalhães
Super Reviewer
½
Freakishly clever animation!
Randy Tippy
Super Reviewer
If you think the present day is bad enough, then try 2024 when Roger is a drone in call center hell, Northern European Division. That's even before he goes home to his small apartment and his loveless marriage. And then there is the voice which keeps him up all hours. To make matters even worse, his bicycle is wrecked the following morning, forcing him to take the subway. On the way to work, to his great surprise, he spots a woman who looks like the spokesmodel for a popular brand of shampoo. Figuring he still has enough time to get to work, he gives into his inner stalker and follows her to Stalingrad(!?!). First, "Metropia" has an intriguing visual style for an animated film, not only in mostly shades of grey with brief flashes of color, but also characters whose features are photorealistic while moving awkwardly. And like any self-respecting geek, I love a good dystopia. The problems arise out of a muddled plot and a need to make statements which go off in all directions at once.(For example, the game show is too openly cruel to be taken seriously.) Oddly enough, the story seems to have been written by people who have never ridden a subway in their lives, just observed it from a great distance and took pity on the poor souls who rely on it. For example, if one wanted to realistically critique the subway, then one would start with a definite sardine aesthetic and then move onto delays. For the majority of us who do ride mass transit every day, it is not so bad when we have something to distract us from the tedium which this movie was not so terribly helpful with yesterday.
Metropia Quotes
There are no approved quotes yet for this movie.