Mi Vida Loca (My Crazy Life)
(1993)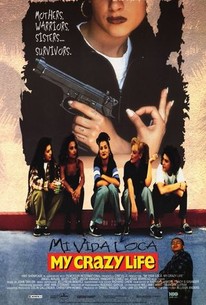 Mi Vida Loca (My Crazy Life) Photos
Movie Info
Neighborhood pride runs deep in Echo Park, so when two lifelong friends join the local gang as a matter of course, they're handed down gang names from the previous generation of homegirls. Unfortunately, Sad Girl (Angel Aviles) and Mousie (Seidy Lopez) don't remain friends for long. When Mousie withdraws into herself to cope with the responsibilities of young motherhood after bearing the child of her one true love, Ernesto (Jacob Vargas), Sad Girl and Ernesto turn to each other for comfort. Soon, Sad Girl herself ends up pregnant, and warm sisterhood cools to an icy feud. Ernesto starts dealing drugs to support his two young families -- and to outfit the gussied-up low rider that he hides from both of his unsuspecting girlfriends. The economic and romantic entanglements of these three characters serve as the entry point into this multifaceted exploration of L.A. street life, but Mi Vida Loca rapidly expands in scope to take in other characters, most of them female. Bleach-blond Whisper (Nelida Lopez), for instance, learns the drug-dealing ropes from Ernesto and considers crossing gender lines to open her own operation. The slightly older Giggles (Marlo Marron), however, refuses to fall into old dependencies and habits after being imprisoned for four years for a crime her boyfriend committed. Sad Girl's sister, La Blue Eyes (Magali Alvarado), the only character to choose college over gang life, chances upon a poem written by a prison inmate and becomes hopelessly smitten, abandoning her books for a passionate jailhouse correspondence. The focus of Mi Vida Loca shifts freely between these and several other characters, many of whom take turns providing narration and context. The director's daughter, Tiffany Anders, has a small role in the film alongside many real-life Echo Park denizens; several musicians and film directors also make cameos, among them Spike Jonze, Kurt Voss, Kid Frost, and the members of Los Lobos. Salma Hayek got her SAG card by playing a tiny role.
News & Interviews for Mi Vida Loca (My Crazy Life)
Critic Reviews for Mi Vida Loca (My Crazy Life)
Audience Reviews for Mi Vida Loca (My Crazy Life)
Mi Vida Loca (My Crazy Life) Quotes
There are no approved quotes yet for this movie.