Miami Vice
(2006)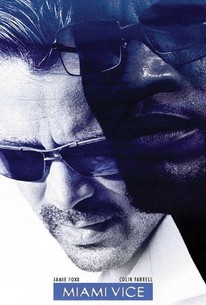 TOMATOMETER
AUDIENCE SCORE
Critic Consensus: Miami Vice is beautifully shot but the lead characters lack the charisma of their TV series counterparts, and the underdeveloped story is well below the standards of Michael Mann's better films.
Movie Info
Get ready to go deeper undercover with Ricardo Tubbs (Jamie Foxx) and Sonny Crockett (Colin Farrell) in this Unrated Director's Edition that includes footage not seen in theaters!
News & Interviews for Miami Vice
Critic Reviews for Miami Vice
Audience Reviews for Miami Vice
What this film seriously lacks in a coherent and discernable plot and character development, it more than makes up for it with tons of style, great cinematography, and well-placed tension. The gunplay (what little there is), is done well, and even though the film is more style than substance, and could stand to be trimmed up greatly, it's a thinking man's drama/thriller, and not a blockbuster action film. Unfortunately, it's called Miami Vice, and features characters taken from the classic 80s show. I have no problem with a film adaptation of Miami Vice, but Mann, who was a major creative force behind the show, should have known better, as well as done better. Unable to get the music, and some other elements from the show due to legal issues, he had to update things and come up with new stuff. My feeling though, is that if you aren't able to truly make the film you want to make, then why bother? They should have called it something other than Miami Vice, and changed the character names. That would have made this a better film. Also, the story here is really incoherent, muddled, and doesn't make a whole lot of sense. It's also really long (especially the director's cut), and filled with a lot of filler subplots that just don't work for me, even with the decent use of mood, tone, and atmosphere. Some of the music is okay, but don't get me started on the Phil Collins cover, and especially how it's used. As far as casting, Farrell and Foxx are fine, but Barry Shabaka Henley sucks as Castillo, and, though she is pretty, Li Gong can't act or even speak English for crap. I love Michael Mann, but I really wanna know what went wrong. It's hard to defend this one and feel good about it, and, even when it does get something right, it gets overshadowed by everything that's wrong. At least some of the cinematography (daytime exteriors especially) is great. Overall though, this is a tedious, boring, and poor adaptation that really could have worked, but only if major changes took place.
Chris Weber
Super Reviewer
Action: Realistic and engaging (except for the last gunfight where some fool shoots under a car... you'll see why). Plot: Absolutely horrible with one of the worst chemistries put into film (between Colin Farrell and some asian chick). It could've been great, but there were way too many problems with this highly stylized but lacking movie.
I might be one of the only people that thoroughly enjoy and respect Michael Mann's full length adaption of his t.v. series. I just think it has all the great things about cop dramas and all of the great techniques of Michael Mann. The digital video is ridiculously fitting for a movie about two Narcs in the middle of a gangster conflict. I guess you have to like the two stars of the movie, Colin Ferrell and Jamie Foxx, who carry their own fanbases and hate groups. For someone who's a fan of both, I thought it was an amazing team up and their chemistry was great together. This is clearly a movie that you have to want to watch and get into, not just something for casual viewing. This is extremely hard around the edges and has very little light-hearted moments. It's extremely gritty and a different kind of cop movie than we're used to seeing. I love how Miami Vice is serious about its goals and beautiful style. The plot is one of the more fine tuned and seems like it could possibly happen in a real-life scenario. Crockett and Tubbs got rid of their nutball clothes and were turned into some truly hard as nails cops.
Conner Rainwater
Super Reviewer
Miami Vice Quotes
| | |
| --- | --- |
| Isabella: | Do you dance?..... i dance |
| Isabella: | Do you dance? I dance |
| Isabella: | Do you dance? |
| | |
| --- | --- |
| Ricardo Tubbs: | Do you wanna fuck with my partner or do you wanna do business with us? 'Cause I don't give a shit how you think he looks. |
| | |
| --- | --- |
| Sonny Crockett: | I'm a fiend for mojitos. |