Michael Jackson - Moonwalker
(1988)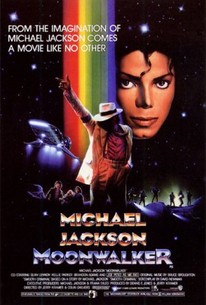 AUDIENCE SCORE
Critic Consensus: No consensus yet.
Movie Info
A combination of live footage of 'Michael Jackson' in concert, as well as a series of fantasy pieces with Jackson as the central character.
News & Interviews for Michael Jackson - Moonwalker
Critic Reviews for Michael Jackson - Moonwalker
There are no critic reviews yet for Michael Jackson - Moonwalker. Keep checking Rotten Tomatoes for updates!
Audience Reviews for Michael Jackson - Moonwalker
"I ask for a BAD guy and he gives me Michael Jackson? I can't take it anymore!" I can't really say that this is a movie. It's more of a compilation of some Michael Jackson songs put together into movie modes. 'Moonwalker' starts with pictures and video footage of MJ when he was a kid and a young artist. All of a sudden he's chased by cartoony people, him wearing a rabbit suit and so on... The only really interesting segment of 'Moonwalker' is the Smooth Criminal part. In that episode, MJ really shoves us, the viewers, that he was an astonishing dancer. It's also beautifully shot and come to think of it, one of the best music videos I've seen. Another nice segment is the one where MJ gets all Optimus Prime and turns into a robot of some sort. 'Moonwalker' is over 20 years old and I believe that the transformation was at that time pretty amazing. But in overall, 'Moonwalker' doesn't come well together as a feature film. MJ can't act. Every time he opened his mouth in this movie, compilation (or whatever), it proved only one thing to us. MJ is an unbeliavable singer but as an movie actor... Like in one of his songs... He's BAD. For fans only.
Love this video. Hopefully it will get a DVD release here in the states soon.
Tim Salmons
Super Reviewer
Weird stuff. A collection of Michael Jackson short films - not yet on DVD in North America. It starts with a live stage performance of "Man in the Mirror" - with shots of audience members freaking and fainting; some needed to be carried away by paramedics. There's a cool journey through Michael's career with music and animation. Next we are presented with "Badder" - a remake of the "Bad" video with kids! This was impressive how close the child performers were to the originals. Weird how some kids had beards and stubble. This is followed by Michael being chased by tourists through a movie backlot. There's a nice mix of claymation and actors wearing masks. It's very cartoonish and as fun as the studio chase in "Pee-Wee's Big Adventure". Michael hides out in the wardrobe department and dons a huge rabbit mask for the getaway on a motorbike, leading into the "Speed Demon" song. The high-velocity chase is awesome, but the song itself wasn't too good. There's a run-in with a traffic cop at the end of the road. After that is the weird "Leave Me Alone" music video. It has a good song and animation. Some of the images were trippy and questionable: like the dogs in suits, lizards, Bubbles the chimp, Michael dancing with the Elephant Man's skeleton and a tribute to Elizabeth Taylor. The main feature is "Moonwalker" - which has Michael and his kid friends in happy world of sunshine and playing ball - but they discover a plot by the shrieking and evil Mr. Big (Joe Pesci), his spiders and guards distribute drugs to all the kids of the world. The direction and effects are cool. The street kids are wholesome and impeccably clean, they. I felt my emotions being tested with the kids crying and then happy at the end. Michael and his friends hide out in an abandoned 30's night club and awaken the ghosts of the past for the entire "Smooth Criminal" music video - one of my favourite songs of his. There's a lot of gun-violence and chasing, with cool things like Michael turning into an armored car and giant robot - it's incredible! The film feels a bit drawn-out, but overall it's impressive. Michael overdoes it at the end by inviting his kid-actor pals to witness a grinding and sweaty stage performance of "Come Together".
Lafe Fredbjornson
Super Reviewer
Michael Jackson - Moonwalker Quotes
There are no approved quotes yet for this movie.