Mickey's House of Villains
(2002)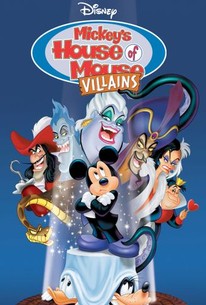 AUDIENCE SCORE
Critic Consensus: No consensus yet.
Mickey's House of Villains Photos
Movie Info
When some of cartoonland's biggest bad guys show up to make trouble, it's up to Mickey Mouse and his pals to set things right in this direct-to-video animated adventure. Mickey (voice of Wayne Allwine) and his pals, including Donald Duck (voice of Tony Anselmo), Goofy (voice of Bill Farmer), and Minnie Mouse (voice of Russi Taylor), are relaxing at Mickey's house, looking back at some of their past exploits, when a number of villains they've tangled with before -- including Captain Hook (voice of Corey Burton), Cruella De Ville (voice of Susan Blakeslee), Jafar (voice of Jonathan Freeman), Hades (voice of James Woods), and more -- appear en masse, determined to take over the House of Mikey in the name of evildoers everywhere. Mickey's House of Villains contains many clips from classic Disney cartoons of the past, re-edited to fit the film's new storyline.
Critic Reviews for Mickey's House of Villains
Audience Reviews for Mickey's House of Villains
Interested to see Mickey and his friends meet Disney villains in this straight-to-DVD cartoon and brings a great put together piece of work from the Halloween classic tales told and starred by the Disney gang. I remembered the classic tales when I was a kid I last watched and my favourite part is Donald Duck and the Gorilla. So overall, Mickey's House of Villains has its entertaining moments, but it's nothing too extraordinary.
Dean McKenna
Super Reviewer
Its one of the best TV show movie spinoffs ive ever seen, it picked all the right cartoons for this movie and it turns out to be one of the best mickey mouse movies ever made
Michael Edwards
Super Reviewer
How do I describe this, first off I'm a huge fan of the House of Mouse series, I've seen almost every episode, really entertaining, same with this one, since this consists a plot in the house and several cartoon segments let me break it down: 1. "Donald's Trick or Treat" 10/10 great classic short, one of Donald's fine performances 2. "Mickey's Mechanical House" 7/10 didn't like the narrator, but still an entertaining Mickey moment 3. "How to Haunt a House" 10/10 One of Goofy's finest recent cartoons, a good reminder of the classic shorts of the 40s 4. "Lonesome Ghost" 10/10 One of my favorite Mickey, Donald, & Goofy shorts, loved the ghosts 5. "Dance of the Goofys" 6/10 This I like the least because I didn't like the animation, plus Goofy wasn't as funny as he should've been 6. "Donald Duck and the Gorilla" 10/10 Good comedy and Donald in his old ways, can't beat that. 7. "Donald's Halloween Scare" 10/10 One of the best and scariest of the newer cartoons, plus a good reminder of the old cartoon, that Donald, still a selfish Halloween trickster lol. 8. "Mickey's Hensel & Gretel" 9/10 Good animation, espically on the witch. 9. The plot in the house was ok, loved to see all of Disney's infamous villains pair up to take the house, literally, loved the song when their plan was put in motion. Like I said, it's the villains' house now, and trust me, they can have a great Halloween celebration, so anyway the heroes' treats and the villains' tricks are sure to bring a HAPPY HALLOWEEN!! muahahahahahahahahahahaaaaaaah!
Nick Clavette
Super Reviewer
Mickey's House of Villains Quotes
There are no approved quotes yet for this movie.