Micki + Maude
(1984)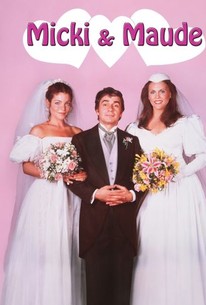 Movie Info
Blake Edwards' farce with Dudley Moore as a frenetically expectant father---with two pregnant wives (Amy Irving, Ann Reinking). Leo: Richard Mulligan. Dr. Glztszki: George Gaynes. Dr. Fibel: Wallace Shawn. Hap: John Pleshette. Guillory: H.B. Haggerty.
Critic Reviews for Micki + Maude
Audience Reviews for Micki + Maude
½
A man accidentally impregnates his mistress and his wife and tries to keep the secret and balance his commitments to both women. It's ham-handed, predictable, improbable, and oftentimes ridiculous, but there are enough charming moments to save it from One-Star Hell. Dudley Moore, who made a career of charmingly playing despicable, sex-obsessed misogynists, plays this despicable, sex-obsessed misogynist charmingly. It's hard to root for his character, but it's hard to hate him as Moore is able to summon that rakish British charm at will. Overall, this is not the highlight of either Blake Edwards's or Dudley Moore's oeuvre, but it's also not as bad as it had the potential to be.
Jim Hunter
Super Reviewer
Micki + Maude Quotes
There are no approved quotes yet for this movie.