Micmacs (Micmacs à tire-larigot)
(2010)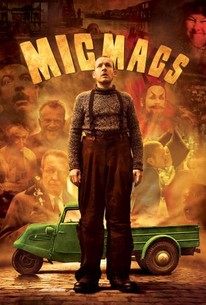 TOMATOMETER
AUDIENCE SCORE
Critic Consensus: It might be a little too whimsical for its own good, but Micmacs delivers more of the inventive silliness that director Jean-Pierre Jeunet is known for.
Micmacs (Micmacs à tire-larigot) Photos
Movie Info
Bazil doesn't have much luck with weapons. The first made him an orphan, the second holds him on the brink of sudden, instant death. Released from the hospital after his accident, Bazil is homeless. Luckily, he is taken in by a motley crew of junkyard dealers. The group's talents and aspirations are as surprising as they are diverse: Remington, Calculator, Buster, Slammer, Elastic Girl, Tiny Pete and Mama Chow. Then one day, Bazil recognizes the logos of the weapons manufacturers that caused all of his misfortune. He sets out to take revenge, with the help of his faithful gang of wacky friends. The gang relives the battle of David and Goliath, with all the imagination and fantasy of Buster Keaton.
Critic Reviews for Micmacs (Micmacs à tire-larigot)
Audience Reviews for Micmacs (Micmacs à tire-larigot)
It's no secret that I am not the biggest French movie fan, but this one I found rather entertaining. A little strange, at times. The French sure do have a different sort of sense of humor. All in all, though, this movie rang alot of of my quirky bells...which kept me watching. Not too shabby.
Cynthia S.
Super Reviewer
½
A man who has been shot and his motley group of friends pit arms manufacturers against one another. Jean-Pierre Jeunet, who is probably most famous in the States for Amelie, has a few signatures that you can see in every one of his films. First, each character is almost always given an extensive backstory so that there are never minor characters just like, in life, there are never minor people. Second, the characters and situations are usually remarkably inventive and cleverly constructed. In Micmacs he's one for two. The main character is given five minutes of backstory, and his team of cohorts are given almost none, but the ploys they devise to catch the arms dealers are almost always delightfully carried. Watching a Jeunet character solve a problem is almost like watching a good magician. Other critics have discussed the political message embedded in the film. One positive review, by Ty Burr, states, "Micmacs is the equivalent of a circus troupe setting up a tent in a war zone: You're entertained, even delighted, but after a while you suspect there are more serious matters at hand," but a negative review calls it "shallow." I saw the politics as tangential to the central, character-driven concern, and though I sympathize with both of those points, it didn't ruin the film for me by either bogging me down with a message or having the message so separate from the plot that the final moment seems like a departure. Dominique Pinon is remarkable, a effervescent character actor, but the lead, Dany Boon, plays Bazil too cluelessly. Bazil doesn't seem like a clever guy when we first meet him, so when the plot makes his character perform clever ploys, it seems strange. Overall, Micmacs is bound to be a disappointment for Jeunet fans, but it is nonetheless a solid, entertaining spectacle.
Jim Hunter
Super Reviewer
This French film is amusing vigilante story and breezy fun. With one notable expection, Jean-Pierre Jeunet's films are rich, textured and enjoyably eccentric affairs, and have deservedly earned him favourable comparisons with the likes of Terry Gilliam and Tim Burton. But Jeunet's style and vision, which reached its apex in Amélie, offers more consistent results than either of those filmmakers. The result plays out like Amélie's little life-improving schemes, albeit with a revenge motive and a team of conspirators. Lacking the vast resources of their quarry, Bazil and Co. prove to be genius improvisers - in one case performing a heist with a household alarm clock, a human cannonball and a gold fish bowl full of wasps. It's impressively inventive and entertainingly convoluted stuff. But while virtually every frame creaks with inspiration, you can't help but come away feeling there's something missing. Perhaps it's to do with being so conditioned to expect a pay-off for every set-up. The extensive film-referencing comes, to a great degree, out of the fact that the pre-brainwound Bazil is a movie nut. A more significant issue is Bazil himself. Whereas Amélie had at its heart a lovable, luminous brunette imp, here we have a large, blank-faced man of few words. And he's nowhere near as engaging. Dany Boon is a big deal in his homeland, but his appeal is yet to travel. We get that Bazil is shellshocked, but it does rather seem like Boon's coasting or, at least, failing to find the heart of his character while he's too busy playing on the surface. You may not be surprised to find that Boon started out as a mime.
Dean McKenna
Super Reviewer
Micmacs (Micmacs à tire-larigot) Quotes
| | |
| --- | --- |
| Bazil: | Thanks, Calculator. I can count on those who count. |
| | |
| --- | --- |
| Bazil: | Are there any pygmy midgets? Hoe tall are they? |
| Bazil: | Are there any pygmy midgets? How tall are they? |