Midnight Express
(1978)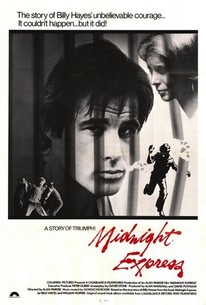 Movie Info
Midnight Express is a harrowing tale of a naïve American caught in a nightmare of his own making thousands of miles from his home. Billy Hayes (Brad Davis) is an American tourist visiting Turkey with his girlfriend Susan (Irene Miracle) when he's caught by customs officials trying to smuggle a large amount of hashish out of the country. The crime would normally carry a sentence of four years, but officials decide to make an example of Billy, and he draws a 30-year sentence despite the promises of his Turkish legal counsel. While Susan and Billy's father (Mike Kellin) pledge to do everything they can to speed Billy's release, in fact there's little than can be done. Billy quickly finds himself in a hellish prison that's a nightmare of filth, violence, rape, inedible food, and unspeakable health conditions. However, Billy gains a few confidantes behind bars: Jimmy (Randy Quaid), an American in a constant state of emotional overdrive; Max (John Hurt), an intelligent, drug-addicted Englishman; and Erich (Norbert Weisser), a gay Scandinavian who is attracted to Billy but accepts his gentle refusals of sex. Before long, Billy is convinced that he can take no more, and he makes plans to take the "midnight express" -- jailhouse slang for escape. While his friends are willing to help, they also make clear that almost no one who has tried to escape has lived to tell the tale. Based on a true story, Midnight Express was a box-office hit which won wide acclaim for the performances of Brad Davis and John Hurt; and the screenplay, by Oliver Stone, won an Academy Award. ~ Mark Deming, Rovi
News & Interviews for Midnight Express
Critic Reviews for Midnight Express
Audience Reviews for Midnight Express
The controversy surrounding the way the Turks are depicted is not without reason, but the film is quite engaging (with a wonderful score) as a disturbing portrayal of hell as a Turkish prison, showing the ugly conditions faced by a very unfortunate man in a horrible situation.
Carlos Magalhães
Super Reviewer
½
Wonderful, crime drama, Midnight Express is a captivating, thoroughly engaging picture, one that is raw, poignant and stomach turning as you watch the man's ordeal unfold as he tried unsuccessfully to smuggle drugs out of Turkey. Some scenes in the film are downright brutal, and under the skilled eye of director Alan Parker, he captures it in such through his camera lens that you cannot deny the power that this film holds. Parker has made some outstanding pictures throughout his career, some soar to cinematic legend that belong up there with some of the medium's most powerful, and classic films. The film is dramatic, tense, and really in your face, and it doesn't shy away at showing you what this was really like. Brilliantly constructed in terms of tension and drama, Midnight Express is like I said, raw, gritty and poignant, but it's a beautifully made picture that manages to stand out due to its entrancing storyline. The script is solid, the cast display some determination to really suck you into the film, and the result is a one of a kind drama that should not be missed. This is a standout picture, a film that sticks with out, and will make think about what you have just seen. Midnight Express is top-notch filmmaking at its very best. This is a picture so entertaining that it's hard to turn your back on it. So if you're in the mood for something truly captivating and riveting right up to the final frame, Midnight Express is a definite must see. I very much enjoyed the film, and thought it had the right balance dramatic and crime elements to create something unique.
½
A lukewarm representation of the Turkish prison system of the time, "Midnight Express" is dangerously violent and chillingly raw, and yet is flawed by its inaccuracy and errant racist slant of the Turkish people. The story is loosely based on the 1977 book of the same name, written by American Billy Hayes, who was arrested for possession of hashish while at the Istanbul airport and sentenced to four years in prison. He and his father fight for his freedom, yell and scream at the unfair conditions of the prison, and remind each other time and again that everything will be fine and Billy will come home soon enough. The tables are turned as his sentence is extended, and we watch as his simple existence in the prison changes into one for survival. The representation of the actual prison seems fair, as the cells were threadbare, the torture and consequences of incalculable actions are atrocious, and immense strife, but the Turkish people themselves are shown as cruel, slovenly rejects. The guards are beyond cartoonish in their villainous ways of torture, especially the head guard portrayed by Paul L. Smith. The prisoners fight in the mud like ravenous pigs, many are greedy, and some are outright fiendish. Hayes comes off as a juvenile but not a latent criminal, who certainly learns from his mistakes fast, and spouts poetic language and monologues at the climax of his horrific tale. The way he is treated is nothing compared to his hopeless plight, stuck forever behind high walls. John Hurt gives an exemplary performance as a drug addicted British prisoner who tries to help Billy escape time and again, but repeatedly fails. Randy Quaid plays a prisoner who has a violent mean streak, landing himself also in prison, which leads to beatings from the head guard as he fails escaping repeatedly as well, but gets all the punishment for it. It's a twisted film, one that makes me ill thinking about it, as well as watching it. It would have had a lasting impact on Turkish prison systems if the story hadn't been so specifically and falsely changed by Oliver Stone in his screenplay and the representation of people had been less obviously villainous. The theme of freedom, whether physically or spiritually, came through, giving this a legacy as a truly brilliant film. Though it is graphic and pitifully heartbreaking, it is a film that shows the strength of the human spirit, and the lengths to which we go to remain unchained.
Spencer S.
Super Reviewer
Midnight Express Quotes
| | |
| --- | --- |
| Billy Hayes: | Jesus Christ forgave the bastards, but I can't! |
| | |
| --- | --- |
| Jimmy Booth: | The second way out, I need you guy's help, and that's under. |
| Billy Hayes: | You mean tunnel? Are you serious? |
| Max: | This is Shagmahr prison, not Stalag 17. |
| Jimmy Booth: | Well that's where you're wrong fuckface, 'cause it's already built! |
| | |
| --- | --- |
| Tex: | (aiming his gun at Billy after catching him trying to escape from authorities) You seem like a nice guy, Billy. I really do feel sorry for you. But if you still try anything or try to run away again, I'll blow your fucking brains out! |
| Tex: | You seem like a nice guy, Billy. I really do feel sorry for you. But if you still try anything or try to run away again, I'll blow your fucking brains out! |
| | |
| --- | --- |
| Max: | The best thing to do is to get your ass out of here. Best way that you can. |
| Billy Hayes: | Yeah, but how? |