Midnight in the Garden of Good and Evil
(1997)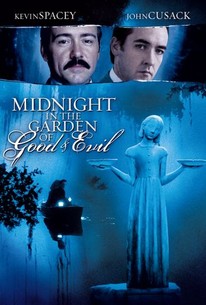 TOMATOMETER
AUDIENCE SCORE
Critic Consensus: Clint Eastwood's spare directorial style proves an ill fit for this Southern potboiler, which dutifully trudges through its mystery while remaining disinterested in the cultural flourishes that gave its source material its sense of intrigue.
Midnight in the Garden of Good and Evil Photos
Movie Info
Clint EastwoodÕs adaptation of John BerendtÕs nonfiction novel doesnÕt create much of a drama from its centerpiece tale of murder in high society, but it brings to life the setting, the rich assortment of characters and the atmosphere of modern Savannah.
Critic Reviews for Midnight in the Garden of Good and Evil
Audience Reviews for Midnight in the Garden of Good and Evil
½
What should have been a routine assignment turns into a murder mystery when a Yankee journalist is sent to Savannah to cover a lavish party in this, Clint Eastwood's Southern Gothic thriller based on a bestselling nonfiction work. The film is a mixture of Southern Hospitality and charm with murder, intrigue, and a touch of the supernatural. The film has a very dreamy and surreal atmosphere, and it has some wonderfully colorful supporting characters. Jon Cusack is our reporter, Kevin Spacey is the party host/main suspect, and the two are quite good, SPacey moreso than Cusack. We also get Irma P. Hall as a voodoo woman, Alison Eastwood as a love interest for Cusack (added in for the film), a brief appearance by Jude Law as a scuzzball, and Lady Chablis, a noted drag performer, as herself. The film has a meditative, dream-like vibe that really draws you in. The performances are solid, but the film primarily works because of the atmosphere. It also plays the Gay Card, so it gets some social commentary points, and the role of violence and its consequences is a long running theme in Eastwood's work. The only real issues are the film's lengthy running time, slow pace, and the fact that the colorful side characters are the most interesting part, but don't really have much bearing on the film's story, and are mainly there to spice things up. Despite its flaws, I enjoyed the film. It's an odd mix, and it is uneven, but it makes for a unique fish out of water experience, so I say give it a watch, even though once is probably enough.
Chris Weber
Super Reviewer
½
Ambiance takes center stage in this most unusual murder mystery starring the quirky citizens of Savannah, GA. The story centers on a northern reporter, John Cusack's character, a southern self-made man/art collector, Kevin Spacey's character, and a murder trial. What is the truth regarding the murder? I really didn't care. This reminds me of Hitchcock's "MacGuffins," something important to the characters in the film but not the audience. Savannah's charm and eccentricities are the draw of the film, and director Clint Eastwood displays them proudly. There are aspects of the film I like and some I don't. I enjoyed the addition of UGA, the Georgia mascot, but I didn't buy the voodoo woman Minerva much. I liked Alison Eastwood; I'd like to see her in more roles. Lady Chablis steals the show; she's over the top fantastic. Southerners in general were too exaggerated though, particularly the Luther Driggers character with the flies. Eccentricities are one thing, don't get ridiculous. Overall though, its fun watching the "old south" being dragged into the present, and the film definitely made me want to experience Savannah for myself.
Clintus Maximus
Super Reviewer
11/21/11 update:
Just saw this again after about two or three years. Clint Eastwood is a multi-tasking god.
I have a friend who has a couple of high-school aged daughters. It's not that the daughters are slackers; the oldest one is the valedictorian of her class. What bothers my friend is that the kids are always boasting about how good they are at multi-tasking -- it's reportedly one of the greatest talents of their generation. My friend constantly rolls her eyeballs when these boasts are set forward, because she would like for them to understand that multi-tasking means more than doing lots of things at once. She wants them to know that it means doing lots of things at once well -- completely. Not doing a bunch of things in a half-baked manner. This generation does do lots of things simultaneously, but they tend to do them not in the way of renaissance "men," but in the way of, say, renai "men." Half-way. Along the lines of a jack-of-all-trades and master of none.
This is definitely not Clint Eastwood's problem. You can throw him two-dozen balls, and he'll keep them all in the air. Piece of cake. Midnight in the Garden of Good and Evil is an example of Eastwood at the height of his multiple powers.
And hey, here are words to live by from Lady Chablis:
Like my mama always used to say, "Two peas in a bucket, mother-f--k-it." What a find she was : )
* * * * *
Original comments, way back when:
It begins with a soundtrack: All Johnny Mercer, all the time. We know Eastwood has an ear for music. BIRD is a good example of his tastes. This soundtrack is phenomenal. k.d. lang's "Skylark" haunts me; I hear it in my head from out of nowhere when I least expect it. To say the reaction to this movie was "mixed" is generous. If it was truly mixed, I think there would have been a few more critics making a few more positive comments. Clintwood was called self-indulgent for meandering around with the direction of this movie. You can call it meandering; I'll call it . . . jazz. Cusack delivers a tour de force performance. Spacey is equally good. That death scene with Jude Law, facing each other on the floor, and that smile Law gives Spacey--it gives me goosebumps just typing about it. The acting of Eastwood's daughter. Okay, so this isn't big on FX, lacks thrilling stunts and car chases, and maybe moves very slowly, very methodically, very thoughtfully, at times. But this true story is compellingly condensed, not butchered--just think, if Eastwood had stuck even more closely to this excellent book, the movie could have gone on for three or four more hours. Chop-jobs of books is what I fear we may see trending with the HARRY POTTER series--although that's way too harsh of me to say. All these wonderfully quirky Savannah characters so beautifully played--or discovered: The Lady Chablis! That fine detail, so artistically appropriate, of the one painting covered up by the second painting. Layer upon layer . . . Yes, flixsters, I think that's it: I'm calling this a masterful Clint Eastwood jazz performance.
Lanning : )
Super Reviewer
Midnight in the Garden of Good and Evil Quotes