Midnight Lace
(1960)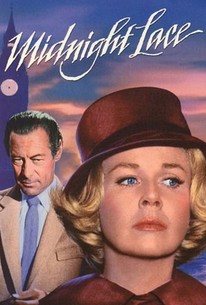 Movie Info
An American woman (Doris Day) living in London is terrorized by an obscene phone-caller just three months after her arrival. Neither her businessman husband (Rex Harrison) nor the police believe her protests, but she suspects several acquaintances. The film, adapted from the play Matilda Shouted Fire, was Oscar-nominated for Best Costumes.
Critic Reviews for Midnight Lace
Audience Reviews for Midnight Lace
familiar stranger
Super Reviewer
Doris as scream queen! Ultra luxurious equally overwrought melodrama with Doris in one high fashion outfit after another being terrorized by phone. Barely believable but highly entertaining film has good co-stars in Rex Harrison and Myrna Loy, who while for the most part is also dressed very well, is forced to wear one of the ugliest hats every seen in film! It looks like an upside down flower basket was dumped on her head. Otherwise the settings are incredibly plush and poor Doris, who has rarely looked better onscreen, spends the entire movie in a state of just below the surface hysteria. Silly but a whole lot of fun.
½
Around the time that the world discovered Alfred Hitchcock, Hollywood was a buzz with suspense thrillers in the same vein. Some were rather original, others could be seen as straight out-and-out copycats. I'd like to think that Midnight Lace falls somewhere in between. Released the same year as Hitchcock's original Psycho, this intriguing mystery thriller explored some of Hitchcock's past themes and plot-devices, making comparisons very strongly to Rear Window and Vertigo. Although it does seem a lot like a copycat, it makes little difference because this film stands very much on its own feet. Doris Day stars, surprisingly, as the troubled lead who is just on the edge of a nervous breakdown due to all of the threats being made by an unseen antagonist. Rex Harrison and Myrna Loy make up part of the supporting cast and give the lead the strength that she needs. Although at times she can be accused of over-acting in this film, I thought her performance was quite strong and overlooked. To go what her character is going through in the movie, she should go a bit over the edge. It only sustains the plot more rather than pull the rug out from underneath it. The look of the film is very much Hitchcock. I'm sure director David Miller had his particular style foremost in mind during production. Lots of shadows, over key-lighting actors and the occasional slanted angle, along with the patented Hitchcock camera panning and zooming. It doesn't take a total genius to figure it out, but I think it gives the film its style and charm and I can't find fault in that at all. The score is a pretty much late 50's/early 60's score. Melodic and lush with lots of string work, although it can be very menacing and dark during the more suspenseful scenes. It's pretty much a dated score, but not one that has lost any of it's charm. The plotline of the movie is very intricate. I bought into the conclusion early in advance so I wasn't too surprised by the outcome. I don't want to say that I had it all figured out early on, but the thought had crossed my mind early on, but it was much darker than I had imagined, so kudos to the filmmakers for a very clever twist ending. One of the few problems with the film is how dated it is not only musically, but due to its on-screen content. It's almost like Breakfast At Tiffany's as a thriller, which is leads me to something else that I guess I should mention. The young lead of the film seems to be a very pampered and upscale sort of woman, which audiences I'm sure at the time (and even today) couldn't relate to. Let's face it, most of the people who actually go out to see movies are hard-working stiffs or waitresses with a night off, so seeing a rather rich person being put through all this torment could be difficult to relate to on an esoteric level. The film's few problems are very few, but this was a very tight, not to mention, taught thriller. I can't hold any grudges against a film that took lessons from the master because filmmakers are still doing it to this day, so to write it off for that reason just seems wrong. I enjoyed the film and it kept me guessing till the end. It was also very well shot, atmospheric and creepy at some points. I wouldn't actually mind seeing this play at a film festival. It would be a good screener for fans of the genre, or even film fans in general. Bottom line: a really good mystery thriller, even if it is a little dated.
Tim Salmons
Super Reviewer
Midnight Lace Quotes
| | |
| --- | --- |
| Man: | Over here. Over here now Mrs.Preston. Close enough to reach out and put my hands on your throat! |