Midnight Run
(1988)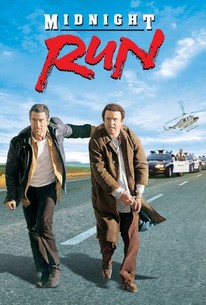 TOMATOMETER
AUDIENCE SCORE
Critic Consensus: Enlivened by the antagonistic chemistry between Robert De Niro and Charles Grodin, Midnight Run is an uncommonly entertaining odd couple comedy.
Movie Info
Director Martin Brest, of Going in Style and Beverly Hills Cop fame, was in charge of Midnight Run. Robert De Niro stars as Jack Walsh, a hard-bitten bounty hunter offered $100,000 to bring in embezzler Jonathan Mardukas (Charles Grodin). Handcuffed to the wimpy Mardukas, Walsh assumes that the extradition trip from New York to Los Angeles will be an uneventful one. But the prisoner hasn't told Walsh the whole story: the embezzler owes $15 million to a mobster (Dennis Farina), and he's been targeted for assassination. It's a toss-up as to what is the most entertaining aspect of Midnight Run: the slam-bang action and chase sequences or the verbal byplay between DeNiro and Grodin.
News & Interviews for Midnight Run
Critic Reviews for Midnight Run
Audience Reviews for Midnight Run
Moving! Extremely entertaining, Grodin and De Niro make a idiosyncratic couple, that make the audience loved! Gallo made a extraordinary screenplay and Brest direct the movie very well.
Lucas Martins
Super Reviewer
A real classic. It's an outrageously funny and terrifically entertaining action-packed buddy comedy. Robert De Niro and Charles Grodin are perfectly cast, they have such great and compelling chemistry and add plenty of meat to their characters. It is just pure and exhilarating fun from start to finish. It cant be beat, a wonderful, thrilling and charming film that packs a tremendous amount of great humor and exciting action. It's extremely entertaining. One of the best action comedies ever made.
½
Many films have tried (and failed) to combine the genres of action and comedy. They were particularly popular in the 80's with the most successful being Walter Hill's "48 Hrs" and Michael Ritchie's "Fletch" and four years before this film, director Martin Brest had already delivered one the decades best in "Beverly Hills Cop". With the studios churning them out to this day, this still stands as one of the finest of it's kind. In order to collect his $100,000 fee, bounty hunter (Robert DeNiro) must find and return bail jumper and former Mafia accountant (Charles Grodin) from New York to Los Angeles. What he doesn't bargain for though, is that the F.B.I., the Mafia and another rival bounty hunter (John Ashton) are also on the trail. As problems arise on the trip back, a strange bond and friendship develop between the disparate duo. How many films can you honestly say deliver on all fronts? Off the top of my head, I can't think of many. This, however, is definitely one of them. It has exciting action set-pieces; perfectly tuned comedy moments; it has pathos; character development from an unlikely pairing of actors and throughout it all, maintains a level of danger. Is there really anymore you can ask for? Working from a marvellous script by George Gallo, director Martin Brest has the perfect balance on this one. He captures all the aforementioned qualities just right and shows a level of skill in his handling of the material. What makes this film work so well though, is the chemistry from it's leads; two complete opposites but still entirely believable. Robert DeNiro is an actor that has never been taken lightly and has, rightly, received acclimations aplenty throughout his illustrious career. However, on occasion, some of his performances are slightly overlooked or maybe overshadowed by his more meatier, well known, roles like Travis Bickle, Vito Corleone or Jake LaMotta, when in fact he has several little gems that slip under the radar. This is one of them. His portrayal of bounty hunter Jack Walsh is absolutely superb, delivering an intimidating presence in his trademark style but also a friendly, lightness of touch which add layers and depth to his character. Playing the fool to DeNiro's straight man is a wonderfully endearing but highly irritating Charles Grodin as embezzling accountant Jonathan Mardukas. His character is obsessive, intelligent and gentle of heart and they both play their roles to absolute, comic-gold, perfection. Very rarely do you get such a dissimilar pair that are so believable and work together as well as this. It's down to these two fitting performances that the blend of comedy and action is so seamless. They're not alone though, the rest of the cast are also given substantial supporting roles, particularly a portentous Dennis Farina as gangster Jimmy Serrano and an unscrupulous Joe Pantoliano as bail-bondsman Eddie Moscone. It's a film that affords the time to a host of great characters and performers. Danny Elfman's excellent and dynamic score also helps in developing and maintaining a particular mood and style, keeping the exciting cross-country adventure from ever getting stale. It's an old formula that plays like a cross between John Hughes' 1987 comedy "Planes, Trains and Automobiles" and Stanley Kramer's 1958 jail-break classic "The Defiant Ones" but it's injected with such a poignancy and freshness that make it very hard not to be swept away with it. I wouldn't really say that this is a film that's underrated as any that have seen it, tend to speak highly. It is, however, often forgotten about and has claim to be one of the most enjoyable film's of the 80's.
Mark Walker
Super Reviewer
Midnight Run Quotes
| | |
| --- | --- |
| Jack Walsh: | Don't overcook it. If you overcook it, it's no good. It defeats it's own purpose. |
| | |
| --- | --- |
| Jack Walsh: | I think I'm gonna get the steak, what about you...well why don't you then get the lobster so I can get a little surf n' turf action going. |
| | |
| --- | --- |
| Jack Walsh: | "Yeah, there was a couple of them I might have taken a shot at" - when talking about having sex with good looking chickens |
| Jack Walsh: | Yeah, there was a couple of them I might have taken a shot at. [when talking about having sex with good looking chickens] |
| | |
| --- | --- |
| Jack Walsh: | I'm only going to say three words to you, shut the f.ck up |
| Jack Walsh: | I'm only going to say three words to you, shut the f**k up. |