Midnight Special
(2016)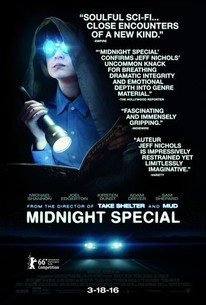 TOMATOMETER
AUDIENCE SCORE
Critic Consensus: Midnight Special's intriguing mysteries may not resolve themselves to every viewer's liking, but the journey is ambitious, entertaining, and terrifically acted.
Movie Info
Michael Shannon, Joel Edgerton, and Kirsten Dunst star in writer/director Jeff Nichols' drama about a father and his eight-year-old son who go on the lam upon discovering that the boy possesses mysterious powers. ~ Jason Buchanan, Rovi
News & Interviews for Midnight Special
Critic Reviews for Midnight Special
Audience Reviews for Midnight Special
After making his name with three independent films in Shotgun Stories, Take Shelter and Mud, director Jeff Nichols approaches his fourth feature with a bigger budget, making it his first studio production and allowing him to operate on a slightly more ambitious and grander scale. However, Nichols has a particular approach to storytelling and resists the urge to let the budget overshadow his intentions. Fans of his will be happy to hear that he continues his promise as a director with great depth and substance. Alton (Jaeden Lieberher) is young boy with a very special gift. So special that it attracts the attention of religious extremists and the Federal Government. To protect him, his father Roy (Michael Shannon) and his longtime friend Lucas (Joel Edgerton) go on the run with Alton to try and uncover the truth behind his special powers and how it could have a huge impact on the world itself. From his aforementioned independent films, Nichols utilised the intensive talents of Michael Shannon and it has become a solid collaboration that you can rely on. With the exception of Mud, Shannon again takes front-and centre in Midnight Special and it's yet another example of how this actor/director partnership works so well. Nichols likes to tread a particularly methodical path with his stories and Shannon always seems to know the terrain very well, complimenting Nichols' approach with his usual brooding intensity. What's different this time, however, is that Nichols aims higher and quite literally aims for the stars. Gone is the Shakespearean tragedy of Shotgun Stories and the parable of Mud and in its place we experience the otherworldly and supernatural elements that he attempted with Take Shelter. In doing so, Nichols puts his trust in the audience to accept the premise and roll with it. It's a gamble but it's a gamble that pays off due to Nichols' sincere approach to the story and through the sincerity of his committed cast. There's and unmistakable flavour of Spielberg's Close Encounters of the Third Kind and John Carpenter's Starman but yet still has the deliberate approach that Nichols has shown in his previous films. He resists the urge to shower the narrative in schmaltz, instead choosing to linger long on shots and capture the angst amongst his characters. Is it formulaic? Yes. Is it predictable? Yes it is, but despite the formula and the film heading closer and closer to a predictable conclusion, Nichols still manages to pull through. His revelations verge on going too far but by the end you realise that you've witnessed a film that crosses all sorts of genres; it's an introspective drama, a restrained chase movie and an imaginative Sci-Fi and it tackles all the tropes with a deftness and skill. We've seen it all before but Nichols utilises that sense of wonder and touches upon the biblical elements that made his previous films so engaging. His grandest achievement, though, is maintaining a freshness and preventing a tried-and-tested story from becoming stale. Much of Nichols' vision wouldn't be realised without his strong cast. For imaginative and otherworldly material of this type, it requires a commitment from those onscreen and all the principal leads deliver; Shannon is always an actor that can express so much by doing so little and it's easy to see why Nichols stands by him but it was the emotive (if underwritten) Dunst and, particularly, the charismatic Edgerton that really stood out for me. They both offer an emotional balance to Shannon's stoicism and young newcomer Jacob Lieberher has an ease and likability that convinces. It's four for four from Nichols now and he's fast became a director that instills a feeling of anticipation on the news of a new project. His next film Loving (again with Edgerton and Shannon) can't arrive quick enough. Mark Walker
Mark Walker
Super Reviewer
Midnight Special has all the makings of a great film but can just as easily be written off as pretentious dribble. An amazing cast, sensible script and believable dialogue dresses up a seemingly biblical tale that illustrates the existence of a supernatural race and a child's destiny to join them. Perhaps it's a story about parental love, or the second coming of Christ, or aliens, the list goes on. Whatever it is it's clearly beyond our scope of understanding. And I suppose that's the point, we're not meant to "get it" but such mythical themes can only be so shrouded before it's seen as senseless.
Drake Tsui
Super Reviewer
Top cast deliver the tension in this taut little on-the-lam-from-the-federales chase piece. Too bad the payoff is lame-o.
Kevin M. Williams
Super Reviewer
Midnight Special Quotes
| | |
| --- | --- |
| Lucas: | Could we go back to Texas now? |
| | |
| --- | --- |
| Sevier: | Is it too much to ask you to punch me in the face? No? Never mind. |
| | |
| --- | --- |
| Roy: | The only thing I ever believed in was Alton. |