The Mighty
(1998)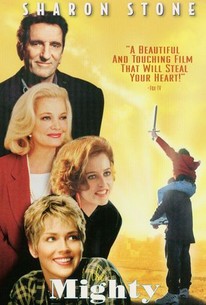 TOMATOMETER
AUDIENCE SCORE
Critic Consensus: Spirited and sweet with an emphasis on the healing power of friendship, The Mighty is a modest charmer that comes by its whimsy honestly.
Movie Info
Peter Chelsom directed this family film in the tradition of My Left Foot (1989). Charles Leavitt scripted this adaptation of the young-adult novel Freak the Mighty (Blue Sky/Scholastic, 1993) by 45-year-old Rodman Philbrick. Big and burly eighth-grader Max Kane is learning disabled, but after he meets the brilliant and brainy Kevin (Kieran Culkin), crippled by a birth defect, the two realize they can become an unbeatable team. Kevin, who wears leg braces and uses crutches, suffers from Morquio's Syndrome, which causes physical growth to stop after the age of six. Max is portrayed by 19-year-old Emerson College filmmaking student Elden Hanson, while Sharon Stone plays Kevin's mother.
News & Interviews for The Mighty
Critic Reviews for The Mighty
Audience Reviews for The Mighty
Wonderfully written story, about two young bully victims - both outsiders and disabled in their own way - who find a best friend in each other, and together overcome their burdens and tormentors. Kieran Culkin is really funny as the clever and quirky "Freak", and shows that the talent in the family isn't limited to his brother Macaulay. Equally positive comments can be applied to the rest of the cast. Everyone plays their role to perfection and gives it their very best. But what I love most about the film is the way it is told. A great narration - divided into chapters like a book - and with an homage to the classic tale of King Arthur and his knights. A film for the heart, that provides hope, humor and a well-needed message. See it and enjoy an inspirational piece of film-making.
i had read the book and it's much better then this movie. I thought this was good though. it had some stupid parts that I didn't like, like te king arthur things. I think they could have made the end better. the ending wasn't as powerful as it could have been. it was a good movie though but it's not really great. B
½
The Mighty is about two kids who together are much more than each is separately. The acting of the two kids is great, and I don't know how they convinced the supporting cast of adults (Sharon Stone, X-File's Gillian Anderson, Meatloaf, Gena Rowlands) to join the cast. I found the story moving and predictable as it moved to its inevitable conclusion, but still a pretty good film.
The Mighty Quotes
There are no approved quotes yet for this movie.